What are the hallmarks you look upon while buying a web hosting for your website?
If it were me, I would say Uptime, Speed and Support.

And you got most of it in WPEngine. Check out my full in-depth WPEngine review to know every minute details about WPEngine before hosting your website there.
They claim it has the best WordPress hosting with extraordinary speed and security.
Let us check out how close they stand to these claims.
WPEngine Review 2019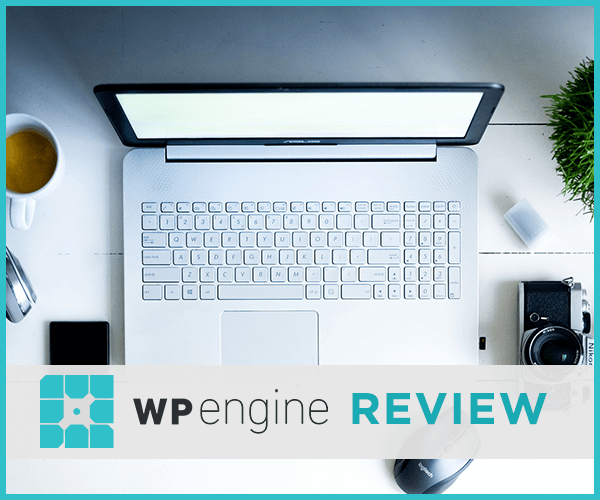 We have split this review into different divisions.
They are price and plans, different test results and pros and cons at the end of this WPEngine review.
If you have any further queries regarding WPEngine or any other hosting provider for that matter of fact, please do knock us in the comments below and we'll get back to you in a flash.
History of WPEngine Hosting
WPEngine is a managed hosting platform for websites which are using WordPress as the Content Delivery System (CMS).
It was founded in March 2010 and is currently headquartered in Austin, TX.
WPEngine is serving customers across the globe.
About WPEngine Inc
WPEngine is the leading WordPress hosting platform.
Their platform provides brands with the solutions they need to create remarkable sites and apps on WordPress that drive their business forward faster.
WPEngine has been very famous recently for its speed and WordPress hosting.
It uses high technology to load sites faster than other hosting providers and has 40,000 plus customers across the globe.
WPEngine Pricing and Plans
When it comes to WPEngine pricing and plans, you don't have an abundance of options to choose.
They have restricted themselves from having plenty of plans and have only four of them.
This web hosting service is not for people who are starting blogging or any other online business.
This is for people who have already hosted their websites in a much cheaper hosting plan and is looking for a premium hosting service.
Below are the plans they provide.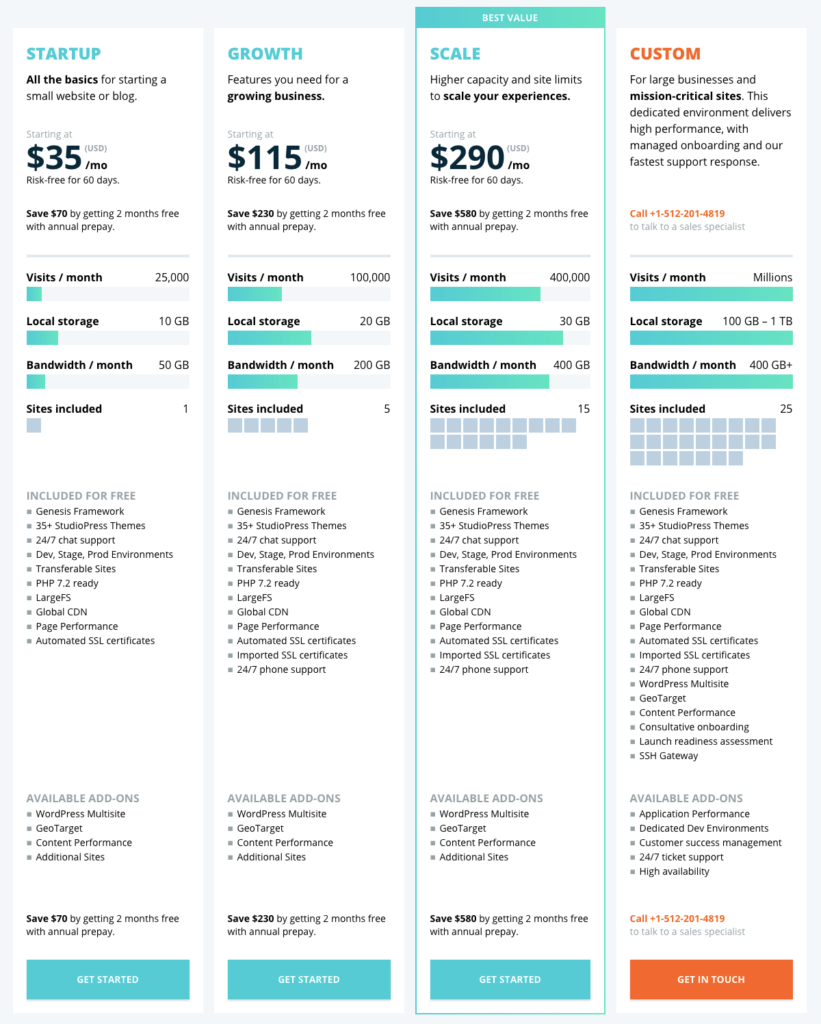 Offended seeing the price of each plan?
I know it's on the expensive side but, this price is directly proportional to the quality of the service they provide.
You also save some dollars while prepaying annually.
Every plan comes with free additional features which provide tons of value like Genesis Framework with 35+ StudioPress themes.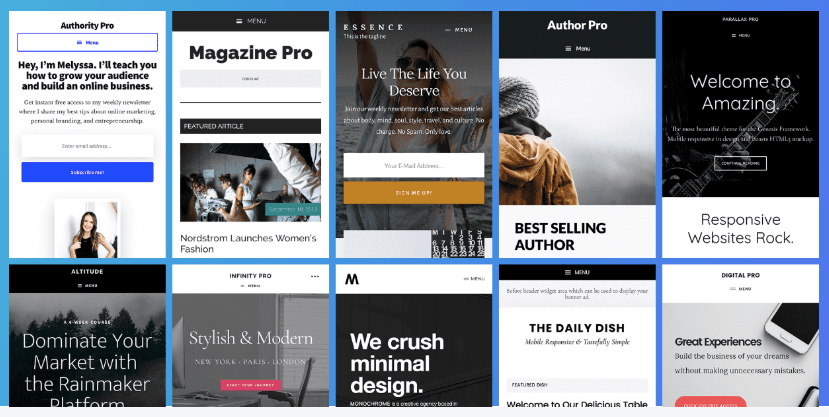 Genesis framework plus one StudioPress theme alone costs around $120.
Other features are quite similar to the ones that are provided by other companies out there.
If budget is not a concern, you can go ahead with WPEngine hosting.
Right after you pick the plan that fits your needs, all you need to do is, check its "Performance."
WPEngine Review – Performance Tests
Web hosting performances include:

Uptime of the hosting server.
Response time of the server.
Speed test
Uptime Report
According to lifewire
Uptime is the amount of time that a server has stayed up and running. This is usually listed as a percentage, like "99.9% uptime. Uptime is a great measure of how good a Web hosting provider is at keeping their systems up and running.

lifewire.com

Unlike other hosting companies, WPEngine doesn't promote their hosting with a tagline "99.99% uptime" so, what does it mean? Do they provide 99.99% uptime?
I have tested some of the websites hosted by WPEngine and here are the results.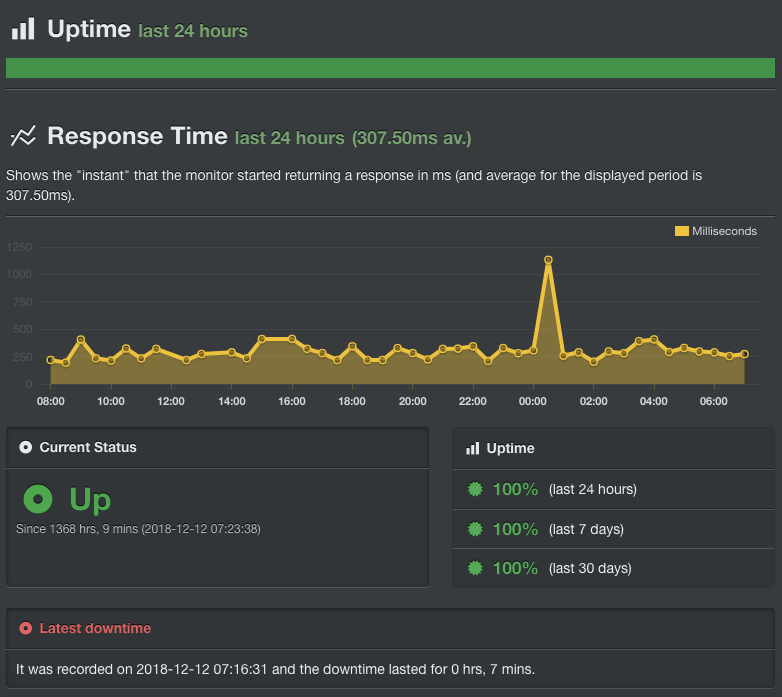 100% uptime? Yes!
WPEngine hardly has any downtime except for the maintenance period which lasts for few minutes say 7-10 mins twice a year or so.
Now you know why you pay that premium amount? If you have a blog/website or even an e-commerce store which gets enormous traffic every single day you shouldn't mind paying for an excellent hosting service.
Let's now see the pattern of downtime to get a better picture of the quality of the servers they provide.

Like I said before the downtime of WPEngine would last for hardly 10 mins once in a long while.
So, WP Engine has successfully passed our test and come out has a winner.
Response Time
Server response time is the amount of time it takes for a web server to respond to a request from a browser. No matter how optimised your web pages are, if your server response time is slow, your pages will display slowly.

According to the Response Time report the performance of the servers looks amazing.
The response time across the globe seems pretty promising.
Speed Test
You wouldn't want your users to wait for your site to load up, would you?
Well, check out the speed test of the sites hosted on WPEngine. Would it make a difference in your choice?
Let me know in the comment section below.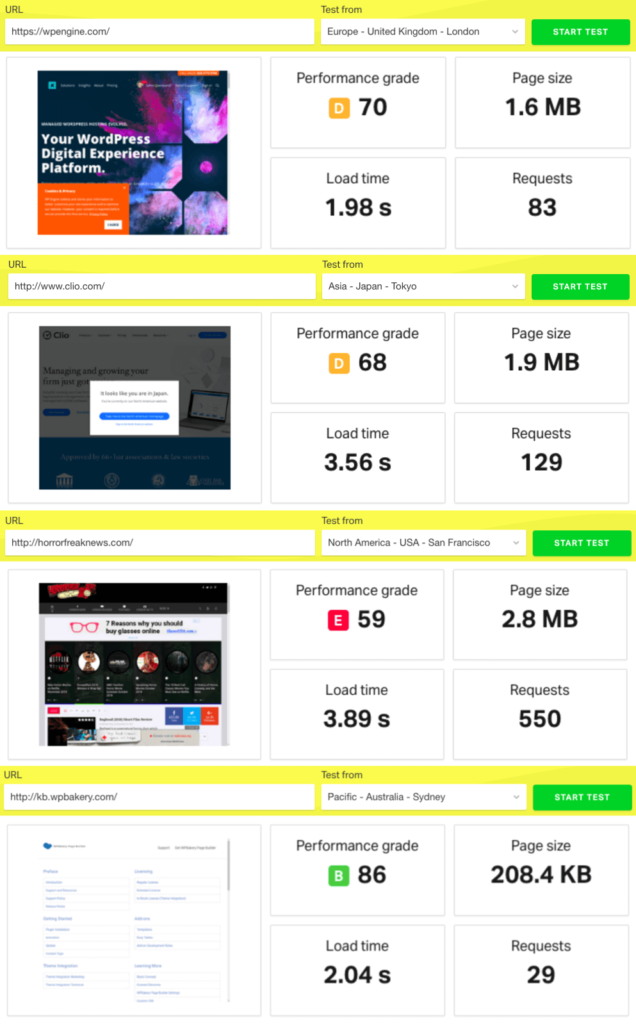 Seeing this result literally shocked me.
An average of 0.55Mbps speed? Did you expect this? For the price you would have paid.
Siteground, Hostgator and some other hosting services being way cheaper than what WPEngine is, has a faster speed than this.
Some of you might debate that the optimisation of the page is the issue.
NO! I have tested more than 30 websites which are hosted by WPEngine, and some of which had been optimised very well still didn't load faster.
Some of my audience who has hosted their sites on WPEngine also stated that they noticed that the loading speed was slow even after optimising their page well.
I would recommend WPEngine only if you're hosting lighter websites there.
Customer Support of WPEngine
Did you ever experience, shit post sale service after buying something?
Don't ask me. I have had many of this which is why I have customer support has one of the requisites for my hosting reviews.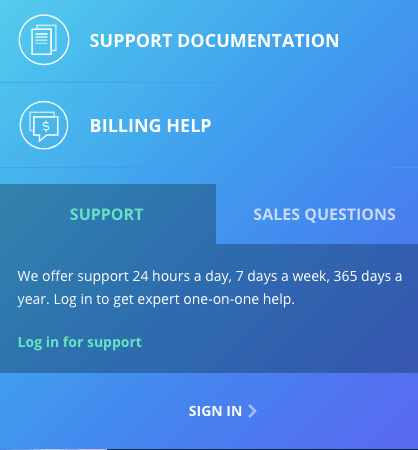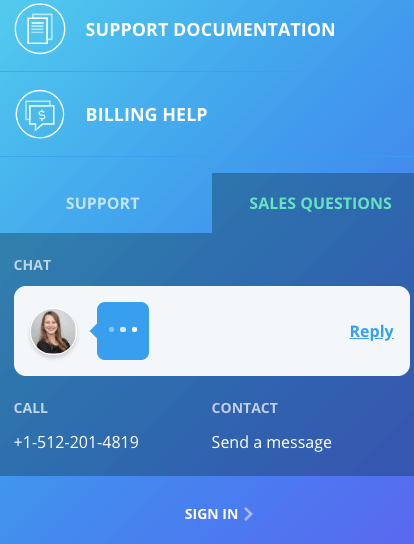 They have 2 divisions in their support panel.
Sales support
After Sales support
Both the divisions work 24*7. Sales support also has access via call.
But what's more important? After Sales support.
They have documentation segment where you will find all the necessary and essential troubleshooters.
Email support and one to one call with an expert 24*7 is also in their list.
Haven't had issues with customer support till date. That doesn't mean everything is perfect. Not yet. You must read the cons section of this review to know behind the scene story.
WPEngine Control Panel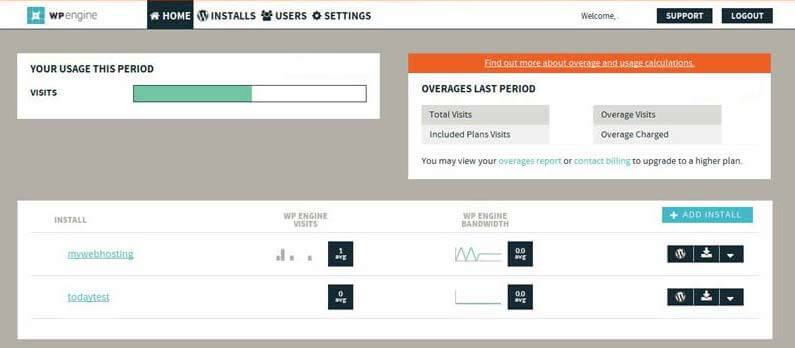 WPEngine has a simple yet old schooled UI/UX design in its cPanel.
But it pretty much does the job. You have options to access support, check total number of visits, domains, etc;
Features
Pros
Hosting WordPress sites will have lot of advantage.
The special service will be provided for free of cost, to prevent your site from hacking.
Free trial of 60 days is provided .
This company uses the unique technology called ever cache technology, which helps you to load your site faster. (ECT for faster page load)
With their FREE AUTOMATED MIGRATION plugin you can transfer the whole WordPress site to their platform within a flash (few clicks.)
They won't compromise with the issues like speed and security. They are lightning fast and secured with issues like hacking. Even if your site gets hacked, they'll fix it for cost free.
They make the job simpler with lot of plugins.
And not to forget the one, they are provided with quality and amazing customer support.
Cons
Their hosting plans are very costly, even though they are providing high-quality hosting; it's very difficult for people to afford it if they are going to have a small scale business out of it.
The storage spaces what they are providing is too less for mid-range sites. And you have to pay for it if you crossed the storage limit to get extra space.
Hosting with them is also limited to no: of visitors per month. Beyond that, you have to pay extra for it.
Only one domain allowed in their basic entry plan.
You can only host WordPress sites.
No e-mail accounts with their hosting plans.
WPEngine User Reviews
Here's what WPEngine users have to tell.
Must admit to the fact that I have heard and read, very few complaints from WPEngine users recently.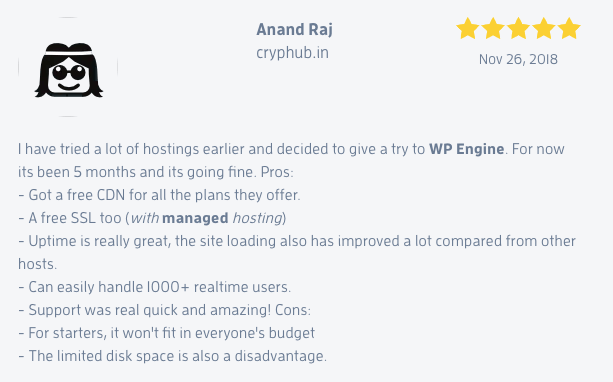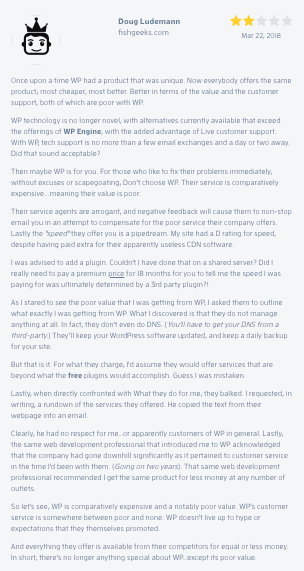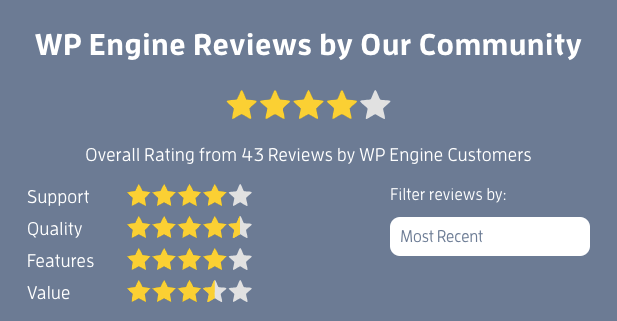 Out of 43 genuine user reviews, these are the star ratings observed.
Summary
This would be the bottom line for my un-biased review, to be honest.
I will rate each important category for my WPEngine review from zero to five, with five being excellent.
Price and Plans: 2
Uptime: 5
Response Time: 5
Speed: 3
Customer support: 4
User reviews: 4
Overall rating: 3.83 out of 5
To end this review on a positive note, I would want each one of you to post your opinion on WPEngine, if you have ever hosted your websites on it.
If you were looking for a hosting service, let me know if this review helped you make your final decision.
Read more Hosting reviews and Hosting comparisons on Whyhostwithme to make the right decision and get the perfect host for your website.

Also, check out our Blog page to learn more about hot topics like WordPress, Webhosting, Domains, SEO, etc.
Thank you, Have a wonderful day.
Disclosure: The links found in this post are affiliate links which help us earn through sales-based commissions.
WPEngine Web Hosting
Starting from $35/mo
Price and feautures
5.0/10
User interface (Control panel)
9.0/10
Pros
100% Uptime
Free SSL and CDN
Free Genesis framework and StudioPress themes
24/7 support
Cons
Expensive
Medium server speed
Less bandwidth and local storage
Restricted to WordPress sites only