The VisualCloudX review is one of the most requested articles on our website.
Ever heard this name before?
No?
Even I hadn't, until last year but I'm happy that I did come across it.
And you know why?
Because it is the most affordable web hosting provider out there.
I was so happy that I submitted a testimonial on their website.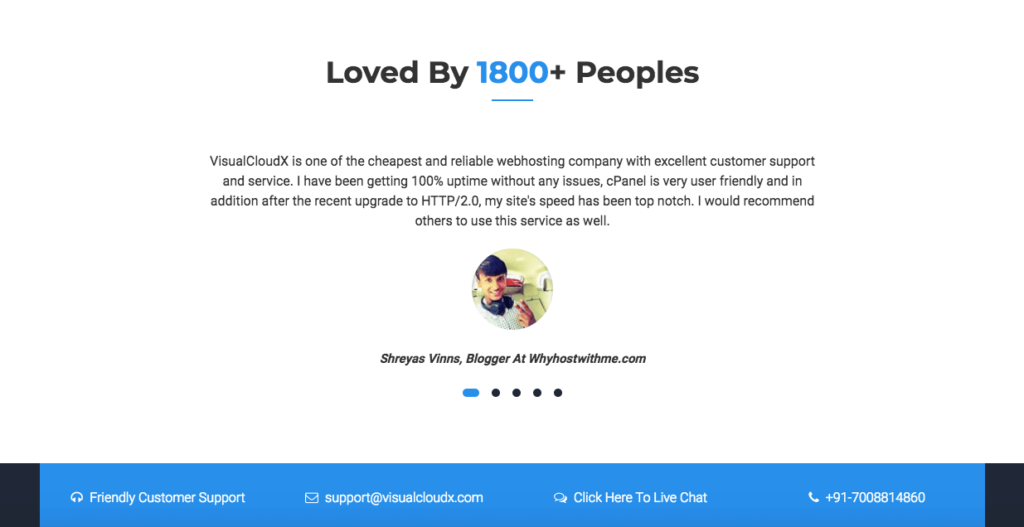 I would definitely recommend it to people who want to start blogging.
I have personally used this hosting for more than one year now and I'm satisfied.
It's bang for the buck.
One of the top Digital marketers from India, Deepak Kanaraju also recommended this web hosting for his students in Learn Digital Marketing Facebook Forum.
Join the community to start learning digital marketing.

So, let us find out if this web hosting provider is perfect for your online business.
VisualCloudX Review 2018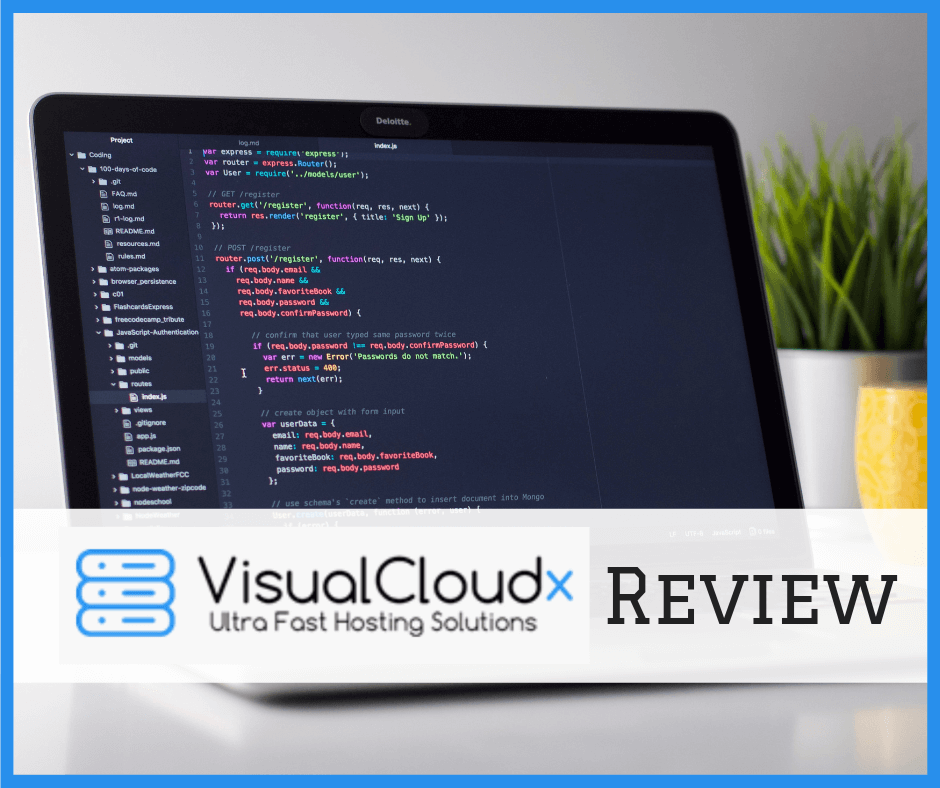 We have split this review into different sectors.
There are price and plans, different test results and also pros and cons at the end of this VisualCloudX review.
If you have any further queries regarding VisualCloudX or any other hosting provider for that matter of fact, please do hit us in the comments below and we'll get back to you in a flash.
History of VisualCloudX hosting
VisualCloudX is an Indian based web hosting startup company.
Their headquarters is at Odisha, India.
They launched their own Web hosting and Domain registration platform in March 2017 under their parent company VisualX Ventures Private Limited.
They reached their 100th customer in just one month. i.e; April 2017
About VisualCloudX Web hosting
It is owned by VisualX Ventures Pvt. Ltd.
Super affordable hosting with great features that are worth a lot of money.
They have hosted 4000+ websites as of now, in just 1+ years.
Mind you, they do not provide VPS and Dedicated hosting.
Price and Plans
Their plans consist of Shared, Windows, WordPress and Reseller hosting.
Let me start with Shared hosting.
Here is a screenshot from their website.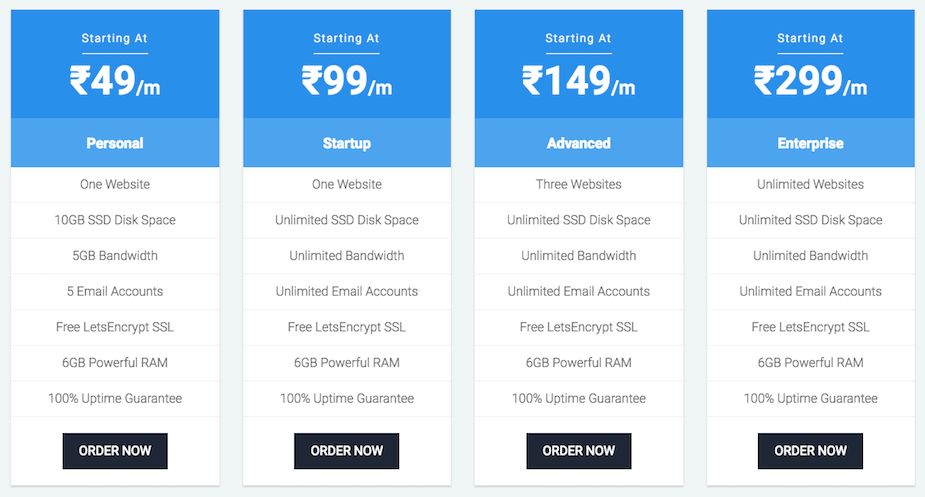 49 INR which is approximately $0.7 per month is extremely cheap.
Anyone who is just starting can get so much value for an affordable price.
I was curious and contacted the CEO of the company to ask more about what made their hosting so cheap.
And here's what he said.
After realizing that there isn't any affordable and reliable web hosting service in the market, we decided to start our own web hosting and domain registration company by the name VisualCloudx.
All the plans come with SSD Disk space which is mind-blowing.
This redefines "Bang for the buck".
Here's a list of few features they're offering for all the plans.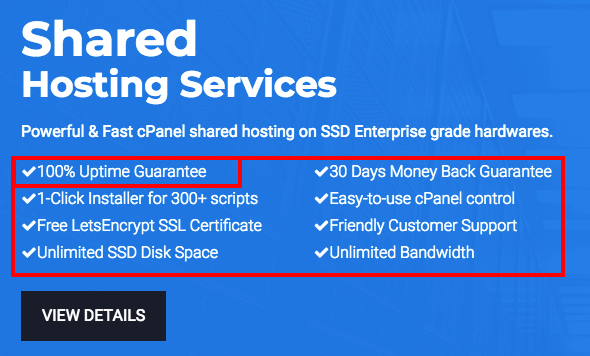 More about features in the features section of this review.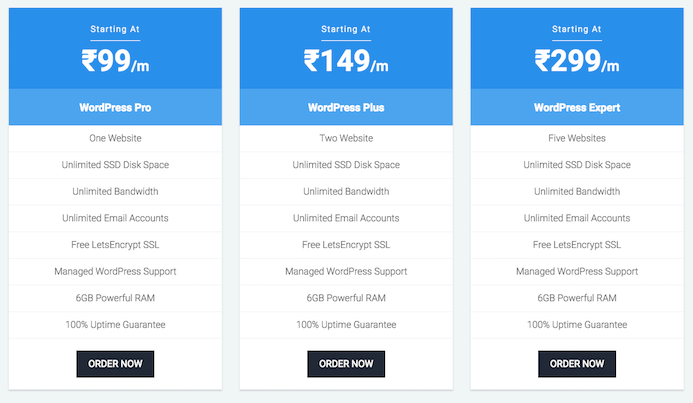 WordPress hosting starts at 99 INR which is approximately $1.4.
WordPress hosting has WordPress pre-installed by default so you can save plenty of time instead of manually installing WordPress.
Rest of the features are same as that of Linux shared hosting.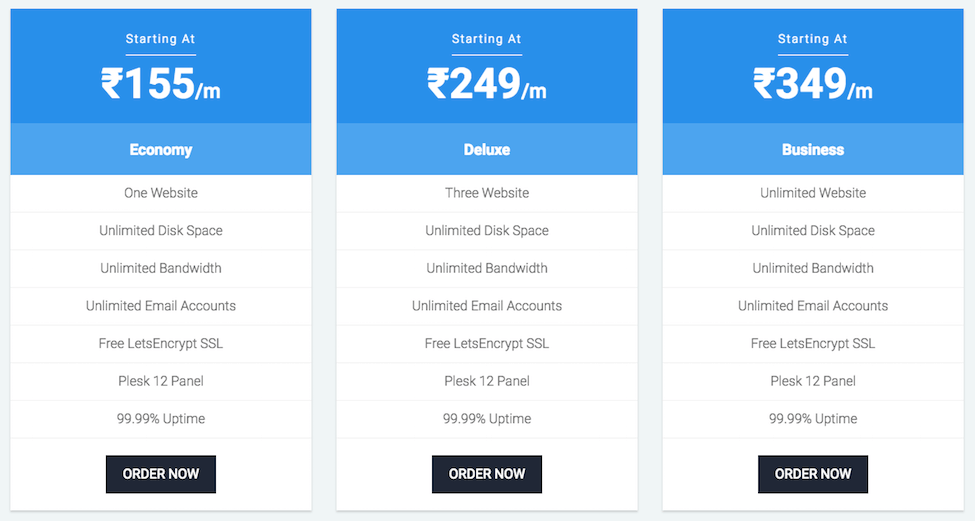 Windows hosting starts at 155 INR per month and it comes with Plesk 12 Panel to manage all your website related works.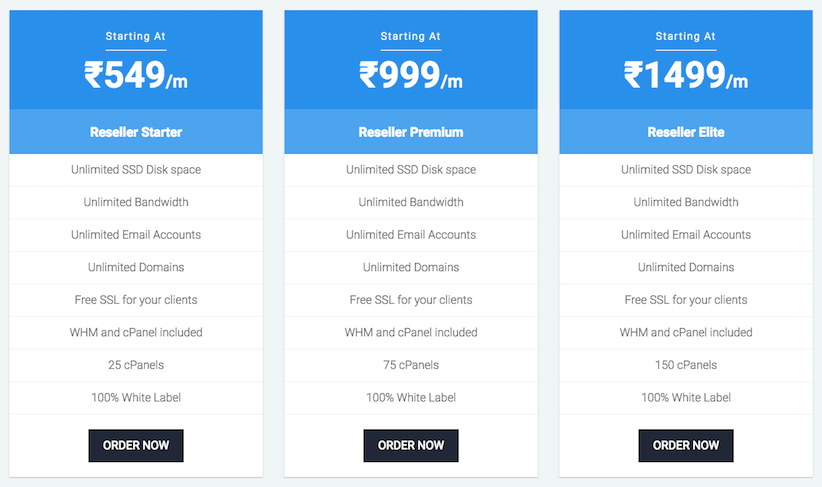 They also have the reseller hosting plans starting at 549 INR with 25 cPanels and goes up to 150 cPanels.
So, if you're planning to provide hosting services to your clients with your company name.
This is for you.
Finally, I would say for the price they are charging, the quality of the servers and the features they're providing are quite worth it.
So, if you're on a tight budget, VisualCloudX could be one of your choices and I would definitely recommend it.
Check prices and plans of VisualCloudX in detail by clicking the button below.
Right after choosing your desired plan, all you need to do is, check its "Performance".
VisualCloudX Review – Performance Tests
Web hosting performance tests include:
Uptime of the hosting server.
Response time of the server.
Speed test.
Uptime Report
Almost all Web hosting providers do promise an uptime of 99.99%.
VisualCloudX is no different from them.
They promise 100% uptime instead.
Here is an image from their website where they talk about the uptime of their servers.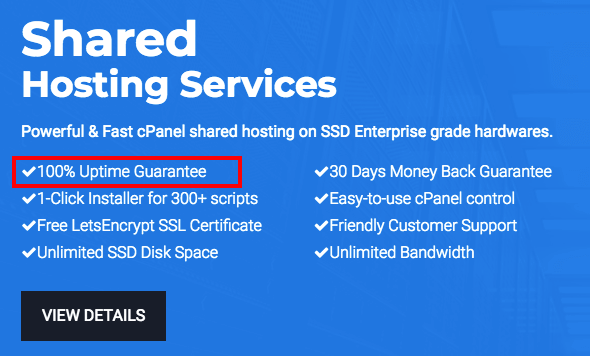 Well, that means your site is going to be live all the time except for their maintenance hours which is around 3-4 hours a year.
Don't believe what VisualCloudX is promising you?
Well, no worries. For this VisualCloudX review, we have tested 5+ websites that are hosted on VisualCloudX and here are the results for the uptime.
This is the report from the last 30 days.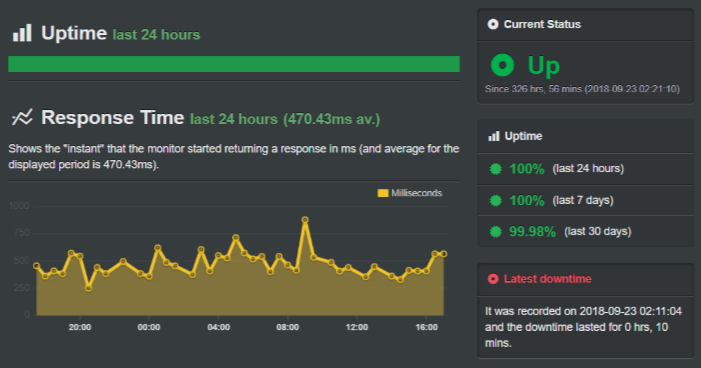 Some months back they used to provide 100% uptime without fail.
But since few months they are having a few issues with their servers.
And the Uptime seems to go down up to 99%, which is not bad at all.
But this month they have got it right again.
A 49 INR/mo hosting giving 99.98%.
That should be mindblowing.
Now, let's look at the downtime pattern.

On 11th August and 23rd September of 2018, you can see the website went down for around 10 mins, which is bad.
The overall uptime is great anyways.
But nevertheless, VisualCloudX has been very transparent about this issue and has compensated most of the time.
They're a start-up company who is trying to improve every day and I really appreciate their effort.
Here's a screenshot where the CEO of VisualCloudX accepted that the servers had a problem and the way he compensated the situation.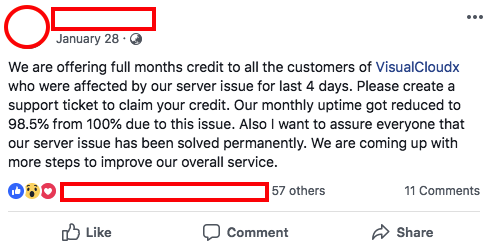 Response Time
Server response time is the amount of time it takes for a web server to respond to a request from a browser. No matter how optimized your web pages are, if your server response time is slow, your pages will display slow.

Response time from Bangalore seems a little more.
But rest of the response time from different parts of the world seems great and an overall rating of "A Grade" is something comparable to that of something costing 200+ INR per month.
Speed Test
You wouldn't want your users to wait for your site to load up, would you?
Well, check out the speed test of Sites hosted on VisualCloudx. Would it make a difference in your choice?
Let me know in the comment section below.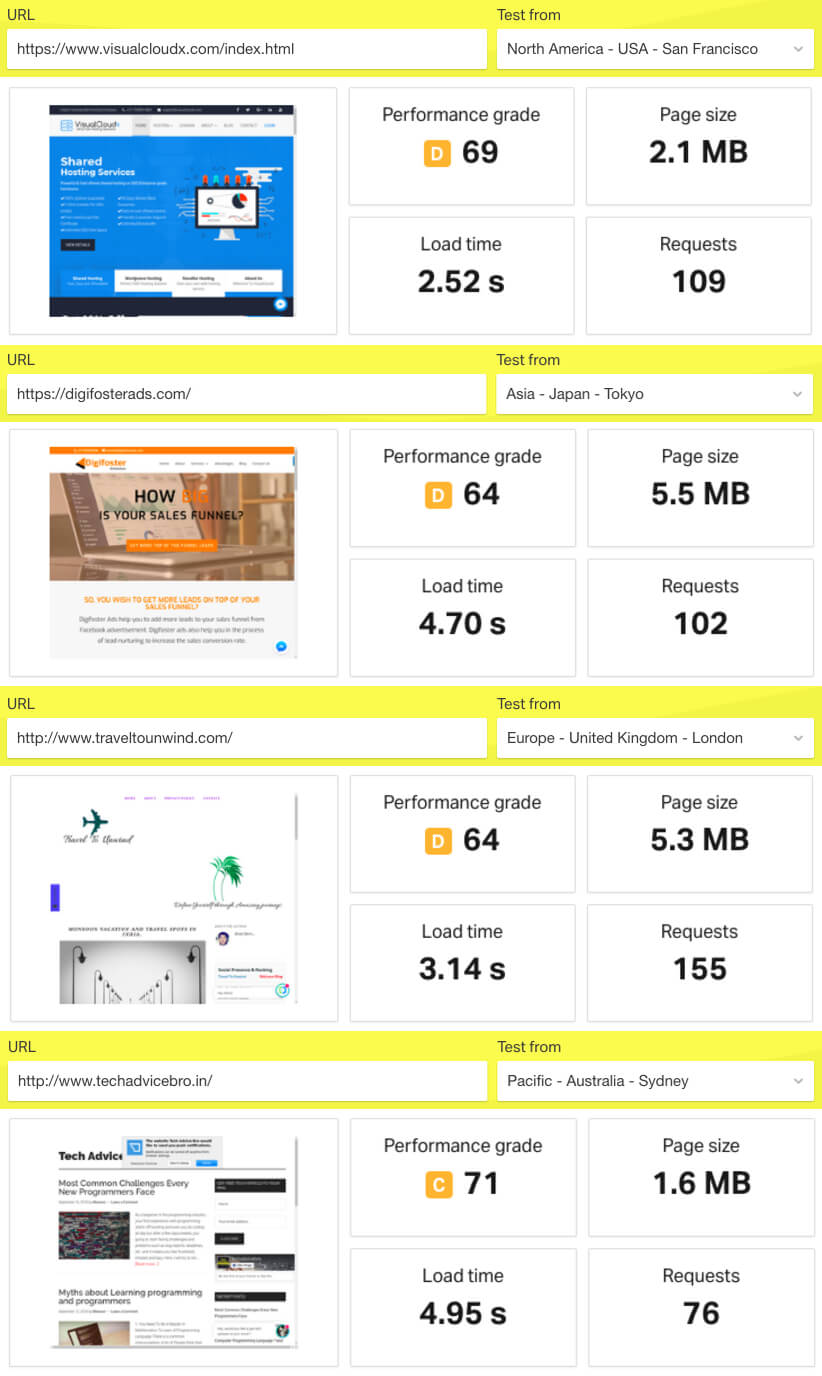 Thanks to the owners of Digifosterads.com, Traveltounwind and Techadvicebro for letting me test their websites which were hosted on VisualCloudX.
These are some of the sites on which we did the speed test. After analysing the results I can say VisualCloudX server speed is around 1.1 Mbps which is fast.
So, nothing to worry when it comes to Loading time.
The server does the job, now it's left up to you on how to optimise your website.
VisualCloudX Customer Support
Who better, can tell you about VisualCloudX customer service other than its own customer.
I have been their paying customer for more than 1+ years.
Most of my Online friend's who have just started their website have hosted it on VisualCloudX servers.
They provide 4 types of support for their customers.
Email Support.
Live chat.
Phone support.
Ticket system.

All the supports work great.
Except for the fact that phone and Live chat is only available during their working hours.
They're also pretty active on Facebook and other social media handles and you can get your queries answered there.
VisualCloudX Control Panels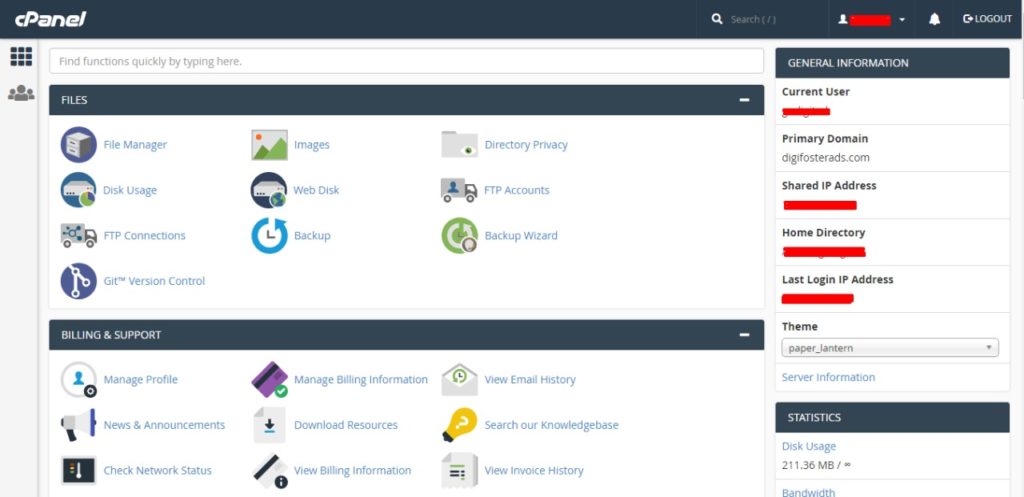 These are the typical Control panels most of the web hosting companies use out there.
So, it shouldn't be any issue using the same.
Features
Pros
All the hosting plans come with Solid State Drive (SSD) disk space.
All the plans except for the basic plans have unlimited disk space and bandwidth.
Free email accounts with all plans.
Free LetsEncrypt SSL certificate.
6 Gb Powerful ram with all hosting plans.
Fully featured Control panels.
Auto daily backups.
Free cPanel migration included with all the plans except for basic plan.
1 click auto installer.
Hotlink, Leech Protection.
SMTP, POP3 and IMAP.
Webmail Interface.
5.4, 5.5, 5.6, 7.0, 7.1 PHP versions available with all plans.
Cons
Servers not able to achieve 99.99% uptime.
Only 30 days money back guarantee.
Live chat and Phone support available only during working days and hours.
VisualCloudX User Reviews
VisualCloudX Web Hosting Review
Average rating:
3 reviews
Sep 26, 2018
Not Satisfied
I'm using this hosting for the past two years now. There are a lot of times servers are down. Late response from the customer support team. They need to work on a lot of things. Because competition is too tough.
Sep 26, 2018
Fantastic service at very affordable price
I can say that this review covers all aspects of the hosting which is very much needed before purchasing. I am using visualcloudx hosting for 5 of my clients websites and I loved the support that they provide. My rank for their support team 9.5/10.



The support becomes very much important when you are a reseller. And visualcloudx is very good in this.





The only drawback that I see is their update emails usually end up in spam folder and there are high chances that you will go unnoticed about their scheduled maintenance and it becomes a problem if you are using cloudflare.



So if they can really update their customers through different channels along with email I will definitely rate them 10/10 from the present rating of 9/10.
Sep 26, 2018
Most Accurate
This review is one of the most accurate and honest reviews I have ever read. It not only helps bloggers but also makes them aware of much more things. I agree with this review as my experience too is the same.

Thanks for the review.
I request you to post your opinions about VisualCloudX and let me know if you were satisfied or not with my VisualCloudX review 2018 in the comments down below.
I hope this VisualCloudX review 2018 has made it clear to you on all the features and every other aspect of VisualCloudX.
Use Discount code: "Whyhostwithme" to avail 10% flat discount when you buy any hosting plan using the above link.
Read more Hosting reviews and Hosting comparisons on Whyhostwithme to make the right decision and get the perfect host for your website.
Also, check out our Blog page to learn more about hot topics like WordPress, Webhosting, Domains, SEO, etc.
Thank you, Have a wonderful day. 
Disclosure: The links found in this post are affiliate links which help us earn through sales-based commissions.