Web hosting is a service that allows organizations and individuals to post a website or web page onto the Internet. Here's our update on the iPage review for the year 2018!
Here, in this iPage review 2018, we will bestow you with all the reliable details about this hosting company. If you have any questions regarding this, kindly leave a comment below and I will get back to you in a flash.
iPage review 2018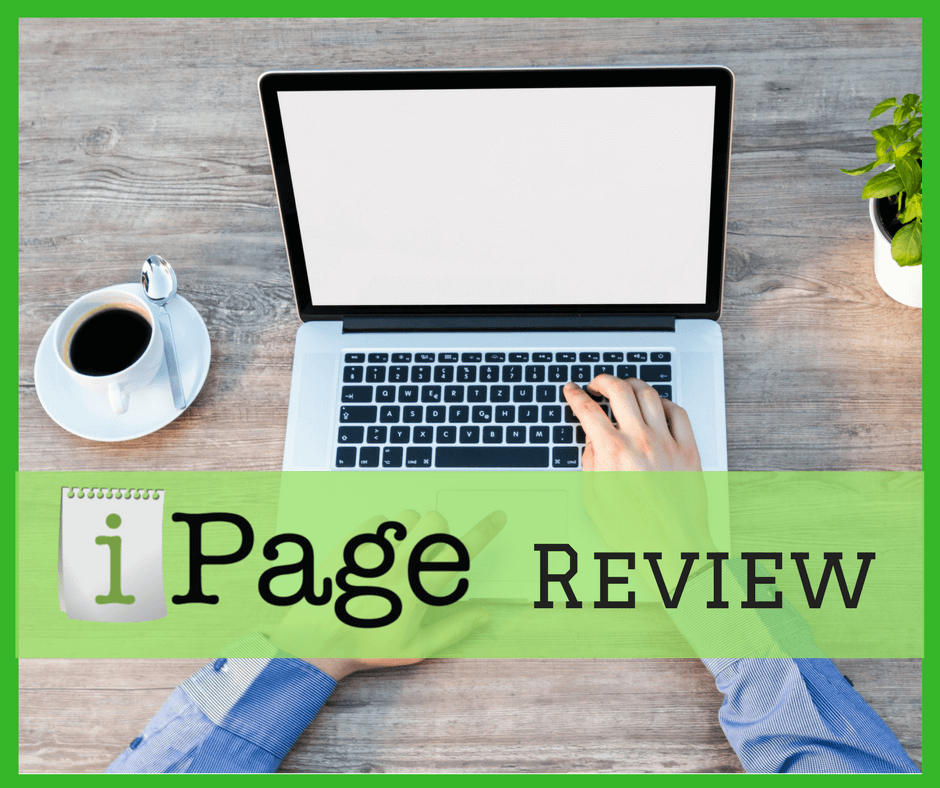 History of Ipage
"Those who cannot learn from history are doomed to repeat it."
iPage is a private web hosting company owned by Endurance International Group (EIG). It was founded in 1998 by Thomas Gorny. It is famous for offering a shared hosting plan that enables users to host unlimited domains on a monthly or a yearly basis.
About Ipage
iPage is known for its low-cost accessibility. It's one of the hosting providers which sells domains at a very reasonable price. What you really need to know is, it also provides an equivalent amount of quality except for a good CUSTOMER SUPPORT. We will discuss this in detail in the later part of the Ipage review.
Right before deciding to host your websites with iPage, please do read my iPage review completely because it's gonna help you choose wisely.
Price and Plans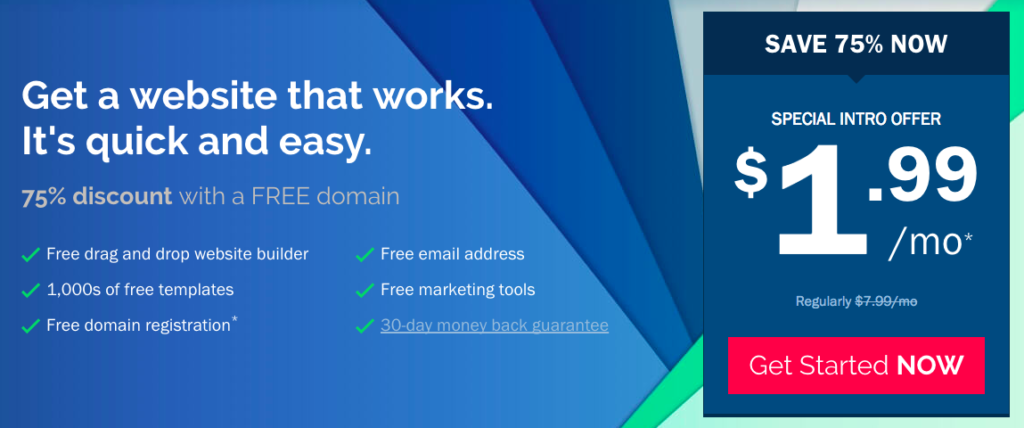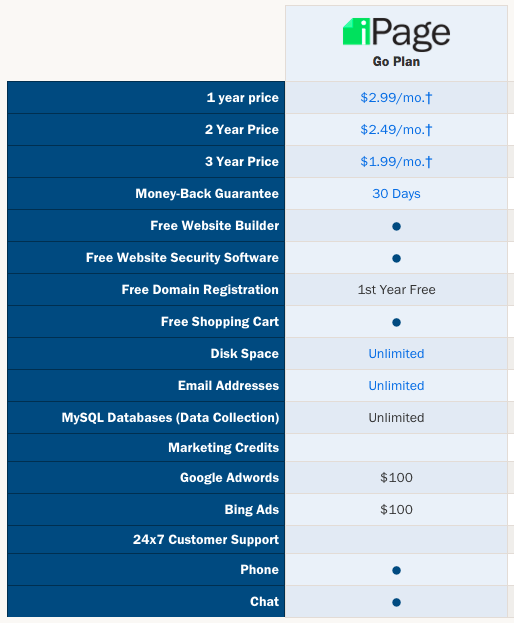 Isn't $1.99/mo a good deal? For startups, this hosting provides all that you need. Check out the plan and the features it provides and choose according to your needs.
Right after you feel it fits in your budget, all you need to do is, check its "Performance".
iPage Review – Performance Tests
Webhosting performances include:
Uptime of the hosting server.
Response time of the server.
Speed test
Uptime report
iPage is always seen promising 99.99% of uptime. for its users. Well, that means the site is going to be live all the time except for their maintenance hours which is around 3-4 hours a year. For the Ipage review, we have monitored and tested more than 10 websites that are hosted on Ipage and here's what we found.  You can see, it has an uptime of 100% which means the site was live all the time but take 99.99% has the practical highest value for uptime.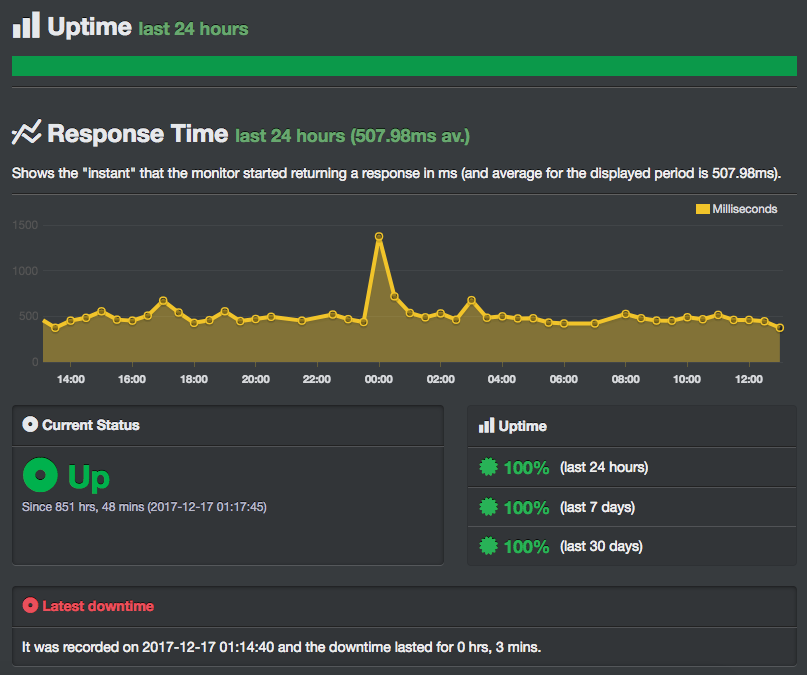 Speed test
You wouldn't want your users to wait for your site to load up, would you? Well, check out the speed test of Sites hosted by iPage. Would it make a difference in your choice? Let me know in the comment section below.



Customer support
This is one of the important aspects of building a good relationship between every customer and the company. After all what good is it if the company doesn't respond with appropriate information when in need! Hence, sale services and customer support are very important.
iPage provides 24*7 live chat, we assure its a very comfortable way of solving your problem but the con here is the time they take to respond.  Being on the receiving end myself, I have to accept that I have had a horrible experience with their live chat as it took them 30 mins to start my live chat.
At the same time, it's a sigh of relief to the citizens of UK, AUS, CAN, EUR as you will be provided with a toll-free phone call service.
Control Panel
Have a look at the control panel of Ipage.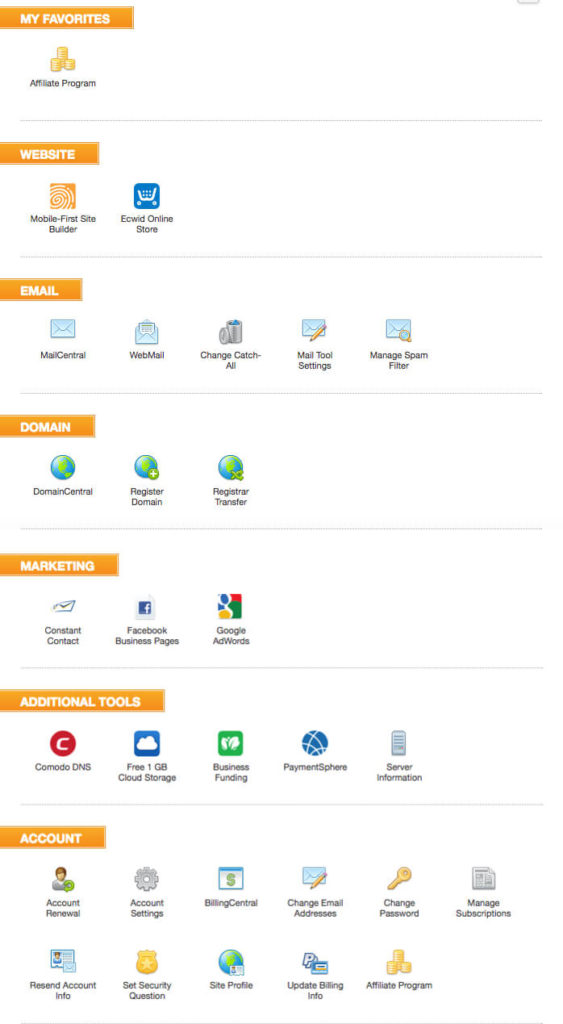 This is the typical control panel which most of the popular web hosting companies use. So it shouldn't be an issue if you're new to this hosting world or if you're moving from any other host to Ipage since it has a very user-friendly interface.
Features
Pros:
The one best thing about Ipage which everyone should appreciate is that they are continuously bringing the new features (products) to their c-panel, and the appreciable thing is many of them are free of cost.
You are able to host unlimited sites in iPage.
Free security suite.
Two website builders available.
You will be provided with unlimited storage space, which helps to store large files, even collections of lengthy movies and videos on your site.
The one and only web hosting company, which uses the wind energy for their services, which means they are eco-friendly too.
Anytime money back guarantee. If you're going to stop your hosting with them, they are going to deduct the money according to the days you have hosted with them, and pay you back the rest.
They provide you the additional features like drag and drop site building tool, which makes your work simple while creating your site.
Free online store.
Unlimited email accounts and unlimited sub-domains.
Free domain name upon registration.
24*7  customer support is available, like the online chat and the calling option. (Toll-free for US, EUR, CAN, AUS only).
Cons:
Agree that, it sells domains at a cheaper price, but you can't expect the same while you're renewing it, it can be around  $113.
Slow server speed, especially if you're using the software Drupal.
If you want the more secured features such as anti-spam, you will have to pay for it.
It doesn't have the feature, which manipulates the usage statistics of your CPU (hard disk).
In their basic plan, you won't get access to SSH ( Secured shell).
Free site backup and site restoration are missing.
User Reviews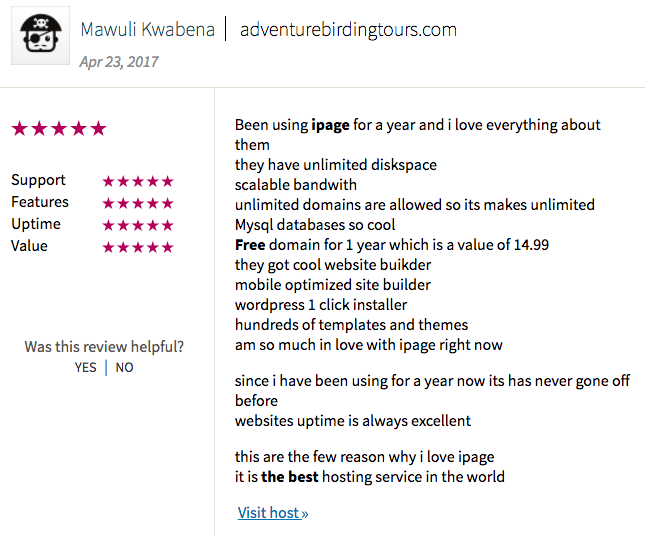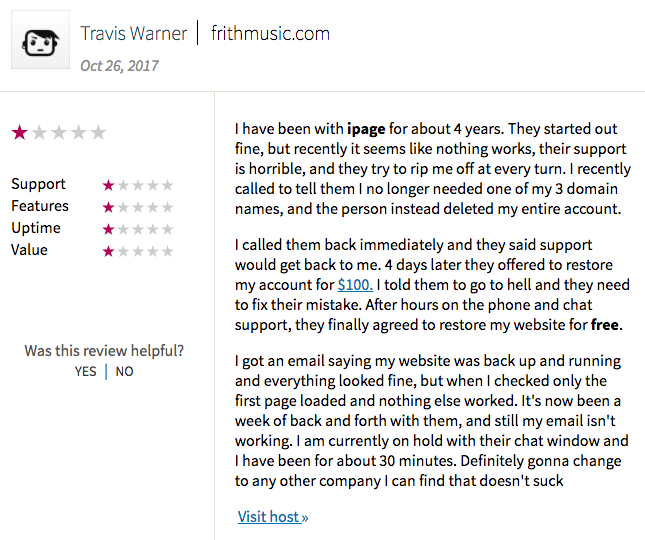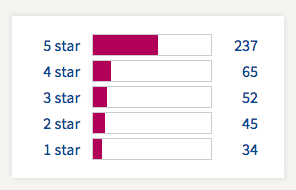 Out of 430 genuine user reviews, these are the star ratings observed.
Credits: Whoishostingthis
I request you to post your opinions about iPage and let me know if you were satisfied or not with iPage review 2018 in the comments down below.
Before you leave this page, Here's a little surprise for you!
Start your iPage hosting today or come back here tomorrow in case you make your mind of hosting with iPage with the cheapest offers available in the market.
Disclosure: The links found in this post are affiliate links which help us earn through sales-based commissions.
Check this video out in case you have trouble buying the hosting using the banner provided above. Step by step tutorial is given in detail.
Or in case you're rich enough and wanna go with the regular hosting cost, click the button below to visit Ipage and choose the plan you need.

I hope this iPage Review 2018 has made it clear to you on the features and every other aspect of iPage.
Read more Hosting reviews and Hosting comparisons on Whyhostwithme to make the right decision and get the perfect host for your website.
Also, check out our Blog page to learn more about hot topics like WordPress, Webhosting, Domains, SEO, etc.

Thank you, Have a wonderful day