Siteground is one the Webhosting companies which is in trend. Haven't heard about it yet? No issues, we got your back.
According to Semrush, Siteground has a trend value of 1, which is the highest. So you know people are with Siteground for a while now.
In this Siteground review, I will talk about all the features that Siteground provides with its shared hosting plans.
After monitoring the sites hosted on Siteground, I have come out with this review.
We have monitored more than 30 websites which are hosted on Siteground's shared hosting for a span of 3+ years.
I have also mentioned the Pros and Cons of this Webhost at the end of this review. So, hang on till then.
If you have any queries regarding Siteground's hosting, leave a comment below and I'll get back to you in a flash.
Siteground Review 2018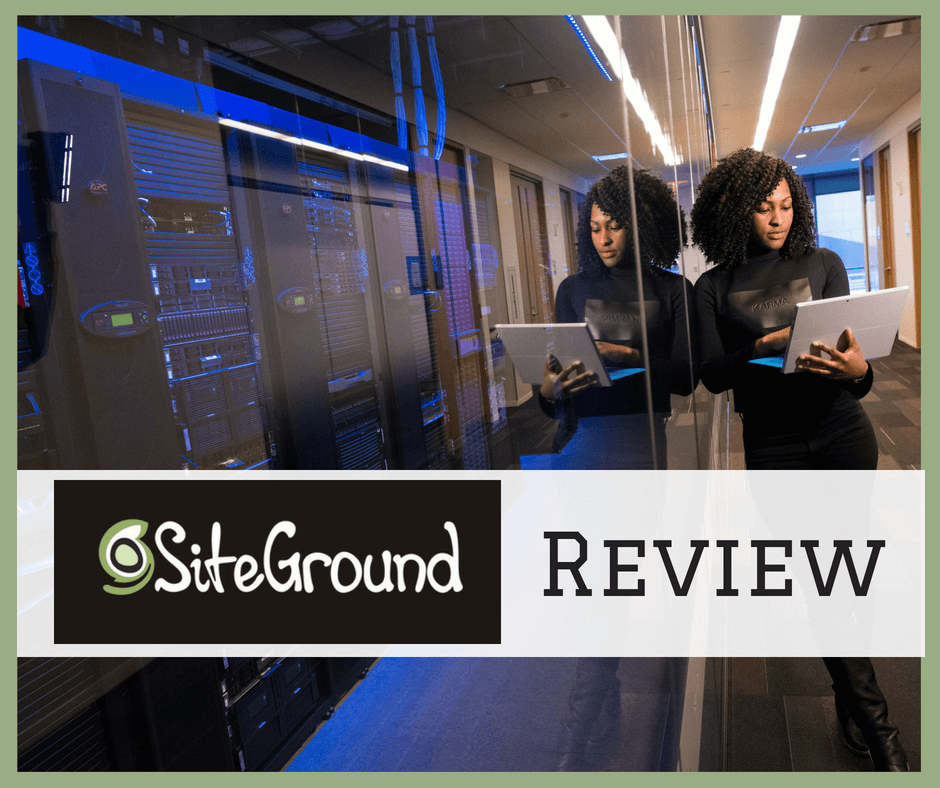 Well, when I was talking about Siteground being in trend, I meant it. Here's the screenshot from Semrush dashboard.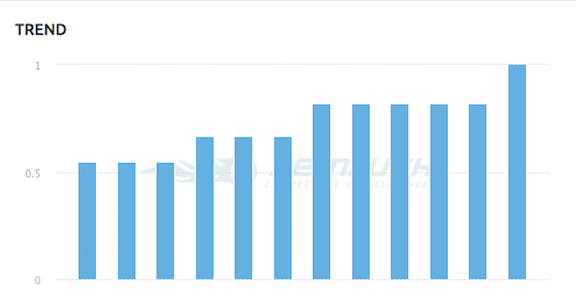 Now that we know it's in trend, let us see its history also.
History of Siteground
Siteground is a web hosting private company founded in the year 2004. Since then its been servicing more than 250000 domains worldwide. It provides shared hosting, cloud hosting, and dedicated servers. Its headquarters is at Stara Zagora, Bulgaria.
About Siteground hosting
Siteground, though becoming popular lately has an excellent service. It's well known for its quality and reliability. Many famous bloggers use Siteground because they like the performance of the serves. They also claim it has good loading speeds.
Well, let's check that out later in this review.
What if the WebHost is good and you haven't got the budget. Makes sense right?
Price and Plans of Siteground Web Hosting
Below is the price list of different plans of Siteground hosting along with the features it provides.
You might want to look at it carefully even though you might have a lot of money.
Choose the right plan that suits your needs. Nothing more and nothing less.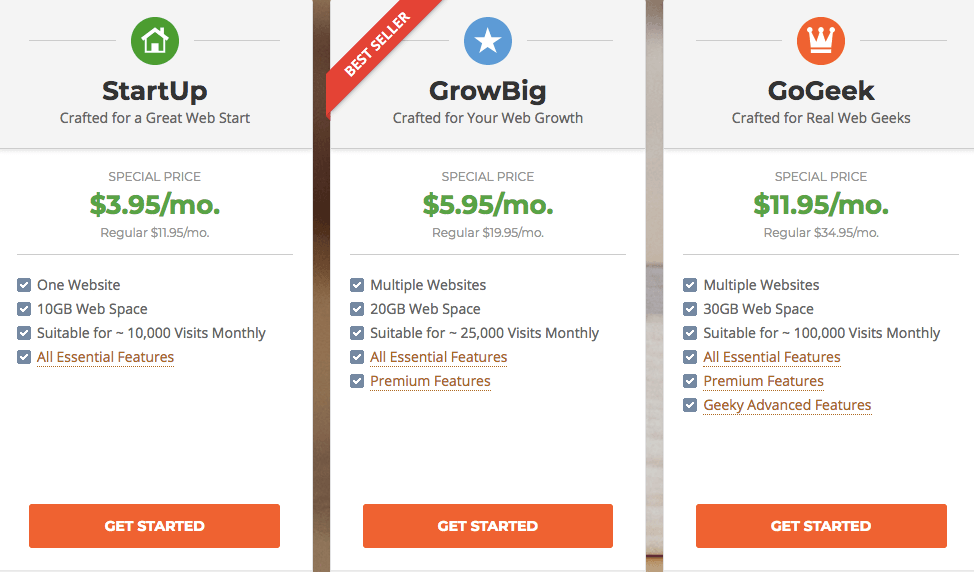 I know the price is slightly on the higher side. But for the features and performance it's providing, I feel it's okay.
There are 3 Important factors you need to notice in the Price list.
The number of websites you can host.
Web space available in GB.
Monthly visitors it can handle.
According to your needs, you can choose the right plan.
Now let us have a look at the features list.

It comes with a full package of features. But have you noticed they are missing on 3 important, most needed features in their StartUp plan?
(To the Company –  Siteground if you're reading this, please do add them because they are not luxury, they are a necessity.)
They are
Free backup.
Free backup restore.
Free site transfer.
So if you're okay without the above features, you can choose one of the hosting plans.
Right after choosing your desired plan, all you need to do is, check its "Performance".
Siteground Review – Performance Tests
Webhosting performances include:
Uptime of the hosting server.
Response time of the server.
Speed test
Uptime report
Almost all Webhosting providers do promise an uptime of 99.99%. Siteground is no different from them.
Here is an image from their website where they talk about the uptime of their servers.

Well, that means your site is going to be live all the time except for their maintenance hours which is around 3-4 hours a year.
If you have stopped believing what companies promise. Then you're in the right place.
For Siteground review, we have monitored and tested more than 30 websites that are hosted on Siteground web hosting and here's what we found.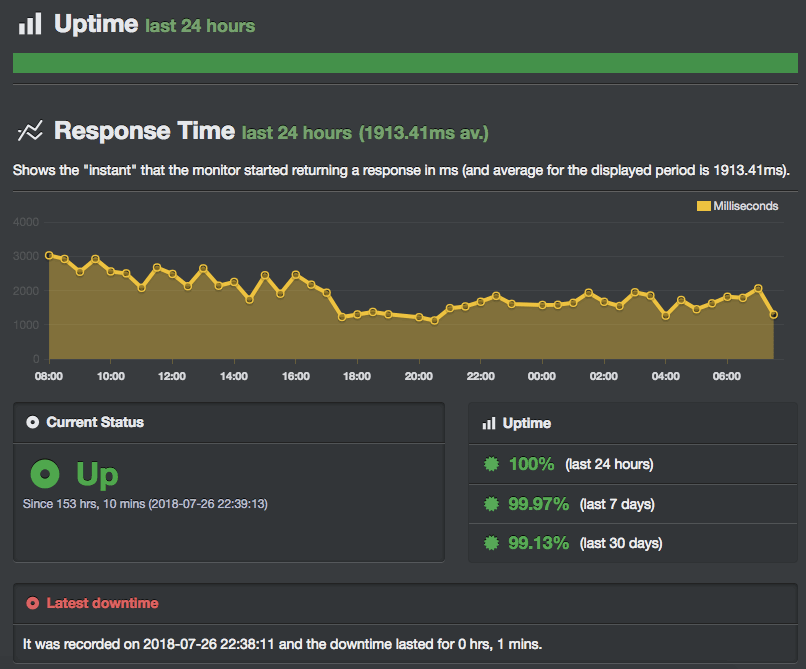 You can see, it has an uptime of 99.13% which means the site was live almost all the time.
This seems less than what they have promised but its close either way.
Here's the pattern of downtime that occurred.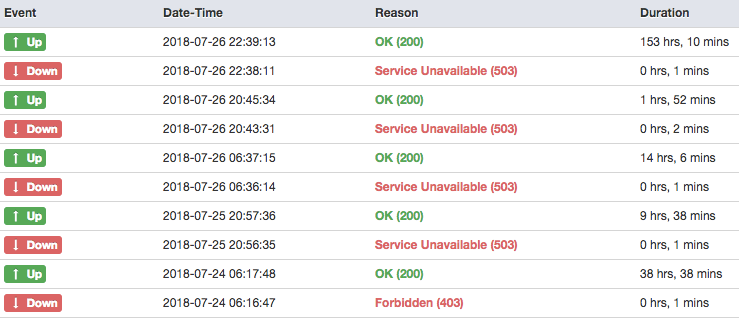 The server went down for 1 minute most of the time. Unless you have a huge number of visitors, you need not worry about it.
Response Time
Server response time is the amount of time it takes for a web server to respond to a request from a browser. No matter how optimized your web pages are, if your server response time is slow, your pages will display slow.

From the report, the performance of the server looks seamless.
Speed test
You wouldn't want your users to wait for your site to load up, would you?
Well, check out the speed test of Sites hosted on Siteground. Would it make a difference in your choice?
Let me know in the comment section below.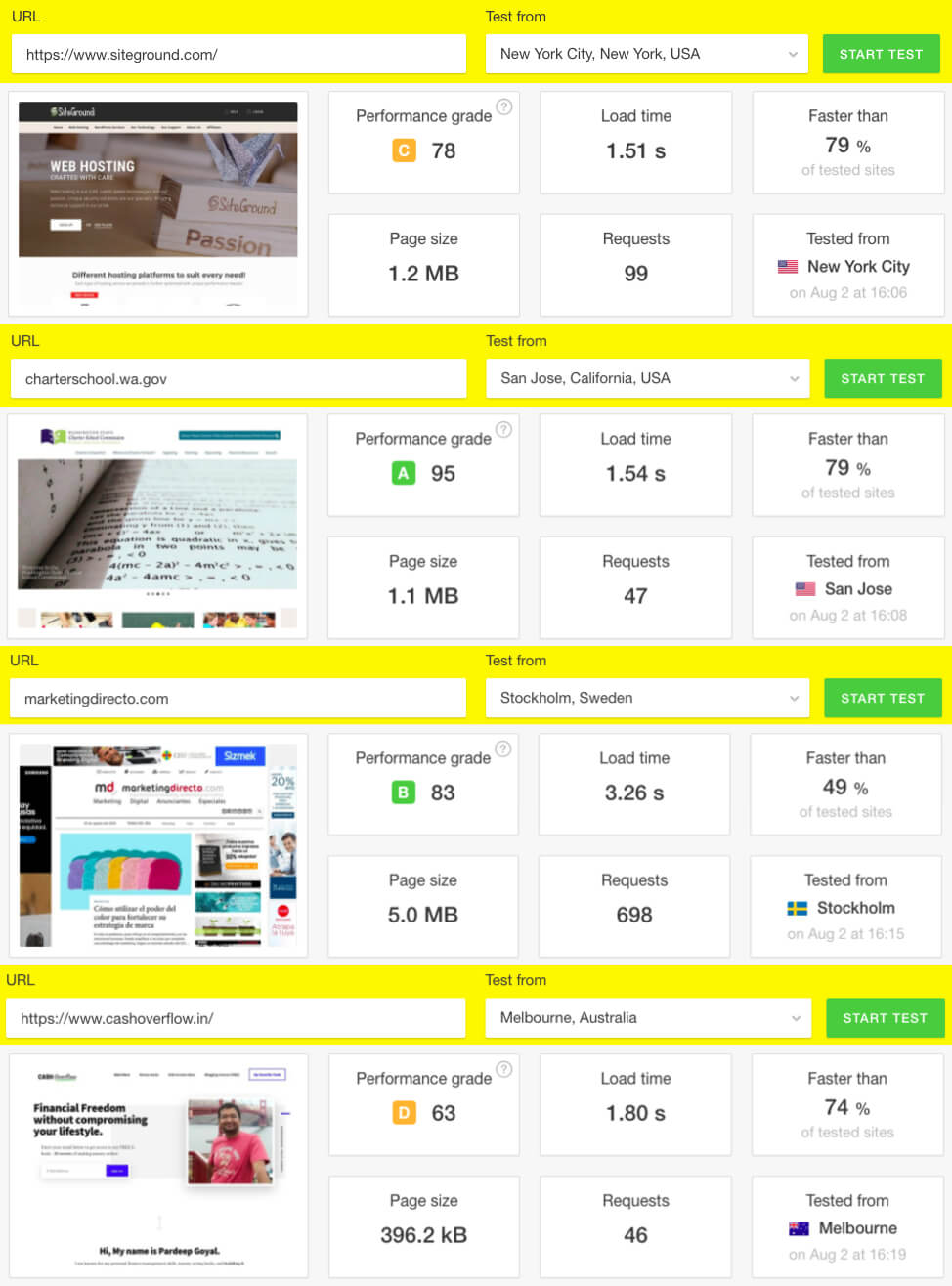 After analyzing the above report, I can say Siteground servers speed is around 0.82 Mbps which is very quick.
Siteground customer service
This is one of the important aspects of building a good relationship between every customer and the company. After all, what good is it if the company doesn't respond with appropriate information when in need!
Hence, sale services and customer support are very important.
Siteground hosting has 3 support options

Tickets 24/7 – They claim that the first reply will be within 10 minutes and to our test, it seemed right.
Live chat 24/7
Phone 24/7
When we tested all the above support systems, we were shocked to know that they really meant it. They all worked super fine for us. Their customer support people were very professional. It seemed like one of the best customer support services.
Control Panel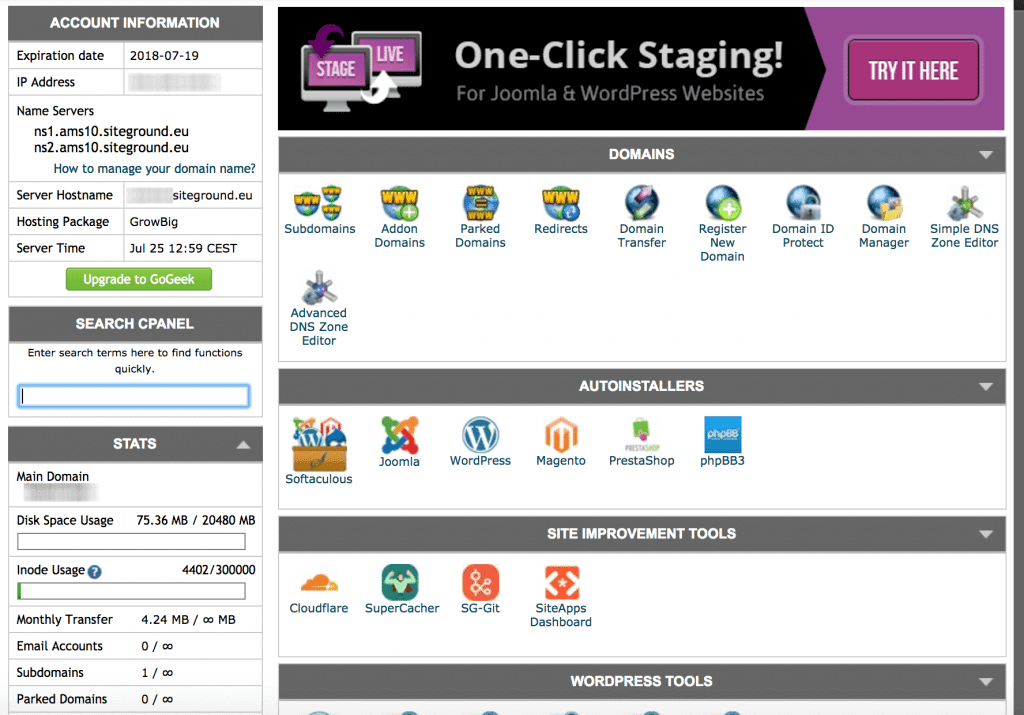 This is the typical control panel which most of the popular web hosting companies use. So it shouldn't be an issue if you're new to this hosting world or if you're moving from any other host to Siteground since it has a very user-friendly interface.
Features
Pros
The best customer service you will be provided with.
Excellent uptime.
Free domain with the purchase of a hosting account.
Unlimited free email accounts available
24*7 online chat, Phone call, ticket system available.
A very simple and easy C-panel to use, even for the beginners in the web hosting field.
They do not charge more for specialized support compared to other hosting companies.
The prices are comparable, but the service provided for the same is unmatchable.
Cons
Unpaid account balances will accrue interest of 1.5%.
Accounts paid on monthly basis will come with a setup fee.
Only 30 days money back guarantee.
Backups are provided but not guaranteed.
Siteground User Reviews
Here's what Siteground users have to tell. I must say I haven't seen a lot of Siteground complaints in a while.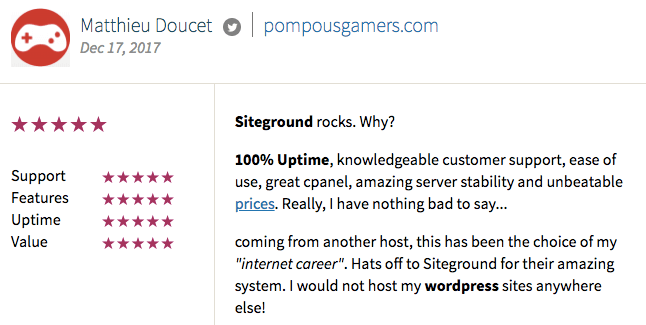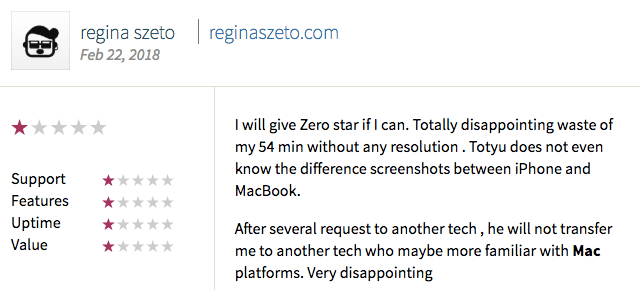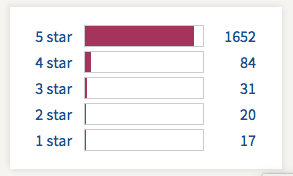 Out of 1804 genuine user reviews, these are the star ratings observed.
Credits: Whoishostingthis
I request you to post your opinions about Siteground and let me know if you were satisfied or not with my Siteground review 2018 in the comments down below.
I hope this Siteground review 2018 has made it clear to you on the features and every other aspect of Siteground.
Read more Hosting reviews and Hosting comparisons on Whyhostwithme to make the right decision and get the perfect host for your website.
Also, check out our Blog page to learn more about hot topics like WordPress, Webhosting, Domains, SEO, etc.
Thank you, Have a wonderful day. ☺️
Disclosure: The links found in this post are affiliate links which help us earn through sales-based commissions.