If you haven't heard about Godaddy, then you're not from this planet.
Just kidding, but seriously, you must have at least seen Godaddy billboards, banners or maybe even advertisements on TV.
And now when you know it is one of the Webhosting providers out there, you might feel like the company has got a lot of brand value and might be the right choice for you.
But wait…
Before making your decision have a complete look at my Godaddy review 2018, while I explain to you in detail about Godaddy as a hosting provider.
Godaddy Review 2018

Godaddy is one of the oldest and the most popular Webhosting company out there.
They are more of a domain registrar then of a hosting provider.
So, let us have a look at the history of Godaddy.
History of Godaddy Hosting
GoDaddy Inc. is an American publicly traded Internet domain registrar and Webhosting company.
It was founded in the year 1997 by Bob Parsons. Headquarters is at the United States, Scottsdale and Arizona.
It has approximately 17 million customers and is said to have more than 65 million domain names under their management, making it the world's largest ICANN- accredited registrar.
About Godaddy
As said above, Godaddy is a very popular web hosting company. It is well known for its low-cost plans and is said to be worth the money. Godaddy is also into other fields of online presence like domain registration, web security, online marketing and also Godaddy email services.
Price and Plans of Godaddy web hosting
Godaddy is one of the cheapest options available when it comes to hosting your website. It hardly costs 100₹ per month which is approximately 1.5$ per month.
But there is a catch…
Before I reveal it, how about you check the price and plans for yourself.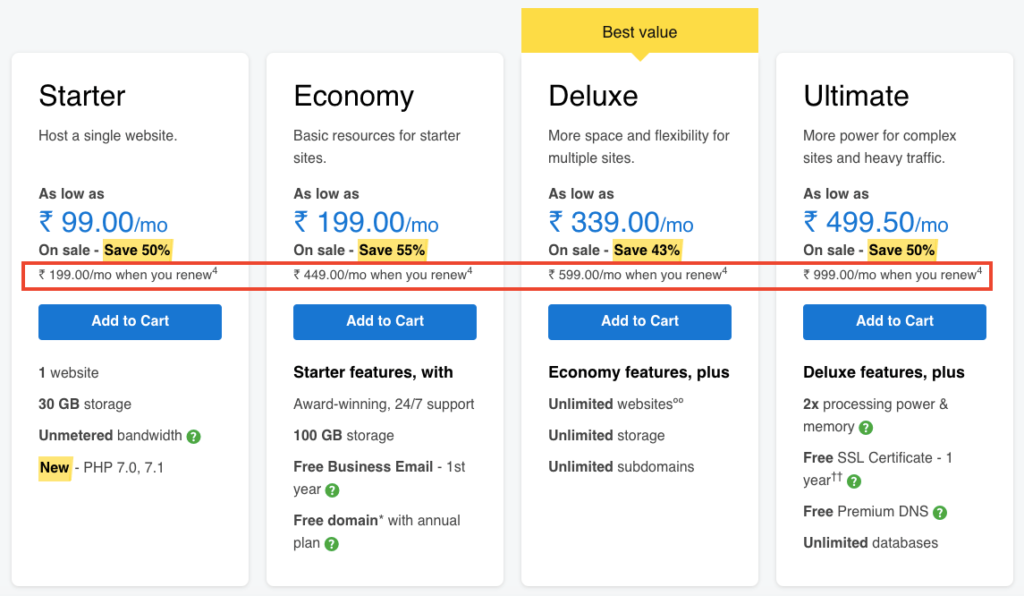 Linux Hosting Plans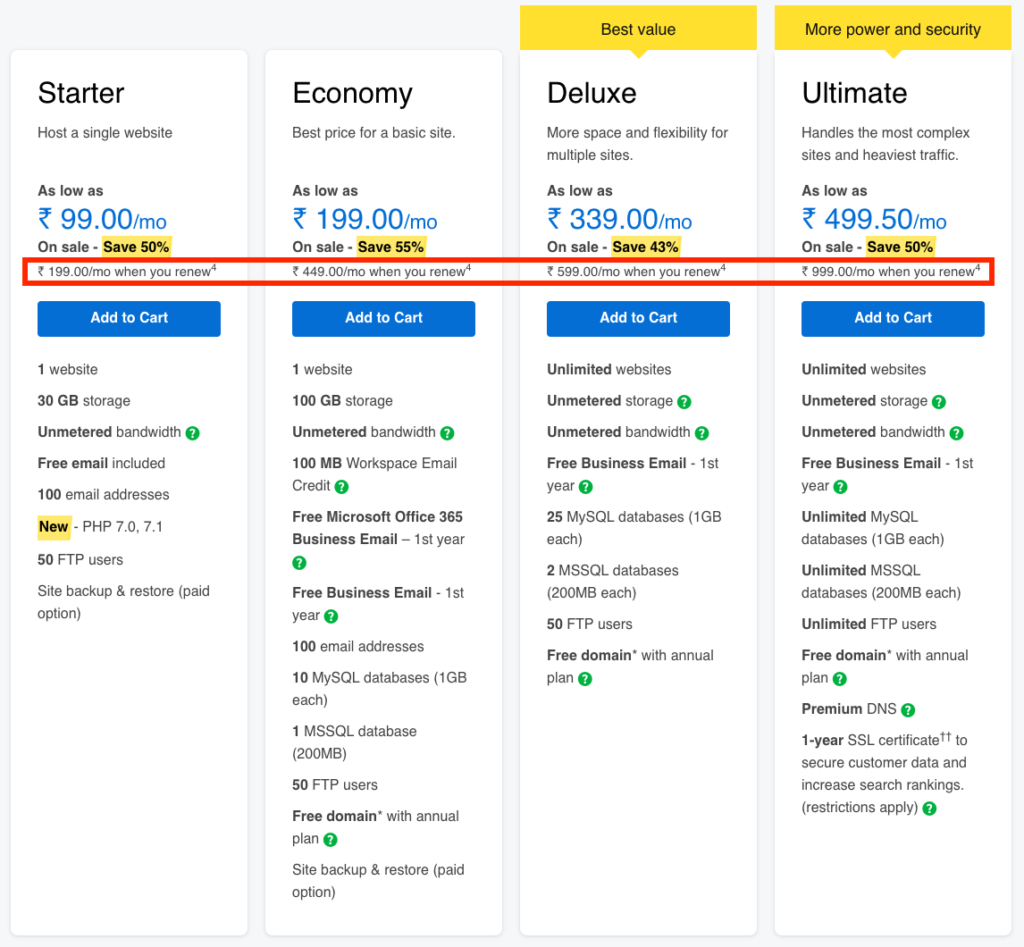 Windows Hosting Plans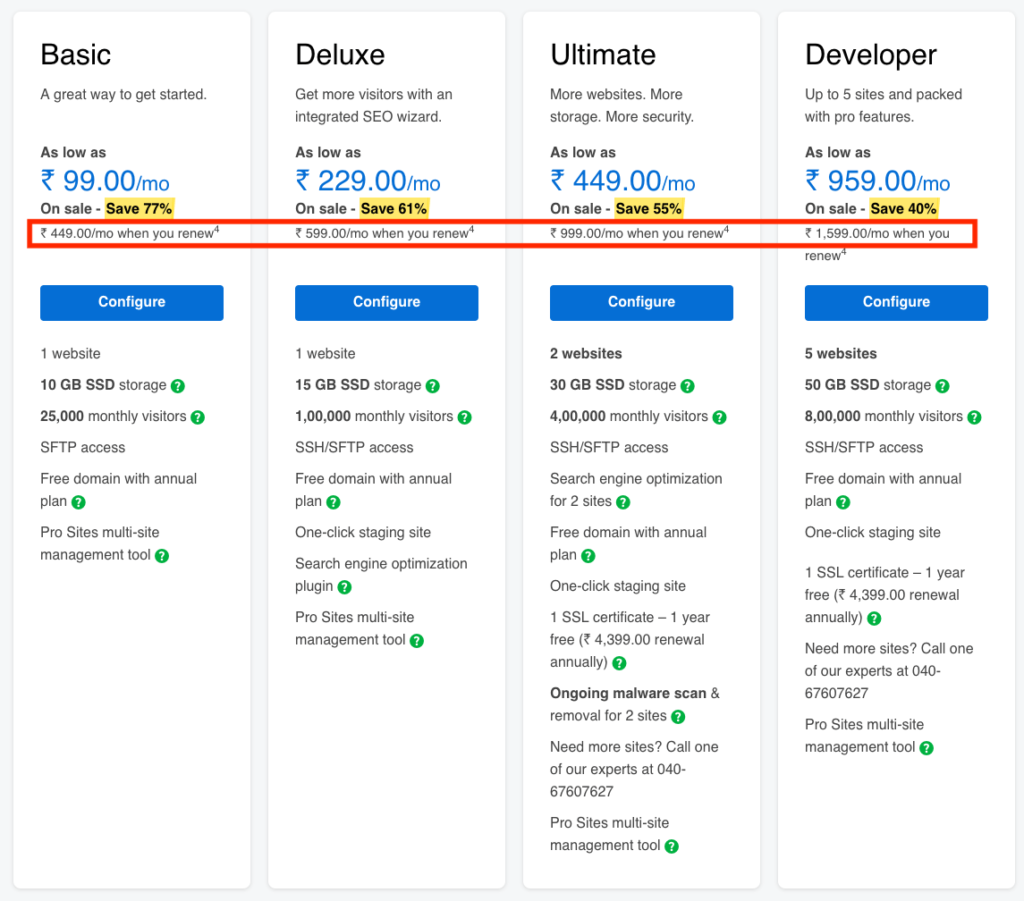 Managed WordPress Hosting Plans
Their shared hosting consists of 3 types of plans
Linux Hosting plans.
Windows Hosting plans.
Managed WordPress Hosting plans.
You need to know your requirements and then choose one.
All the above plans look cheap, isn't it?
Not really if you look carefully.
It is very deceiving actually.
Have a look at the images once again. I have highlighted a part of the 3 images with red coloured box.
Yes, they are the renewal cost of the plans after your first term.
So, that is the cost you must be considering because you're not going to change the hosting every year unless the current hosting turns out to be a bad one. (Changing hosts can be a pain sometimes for non-technical persons)
The starter and basic plans can also be compared with iPage and Bigrock's hosting plans.
Have a look at them.
You can also check my comparison reviews of these hosting and then decide the best for your business.
Godaddy vs iPage and Godaddy vs Bigrock.
All of the above plans have some cons, I will mention it in the later part of the review.
Now let us have a look at the complete feature list that Godaddy is providing with its plans.
Since the images are very long I have embedded it under the following links. Have a look at them by clicking on the links.
Feature list of Linux Hosting plans
Feature list of Windows Hosting plans

Godaddy Managed WordPress Hosting Plan Features
Right after choosing your desired plan, all you need to do is, check its "Performance".
Godaddy Review – Performance Tests
Webhosting performances include:
Uptime of the hosting server.
Response time of the server.
Speed test
Uptime report
Almost all Webhosting providers do promise an uptime of 99.99%. Godaddy is no different from them.
Here is an image from their website where they talk about the uptime of their servers.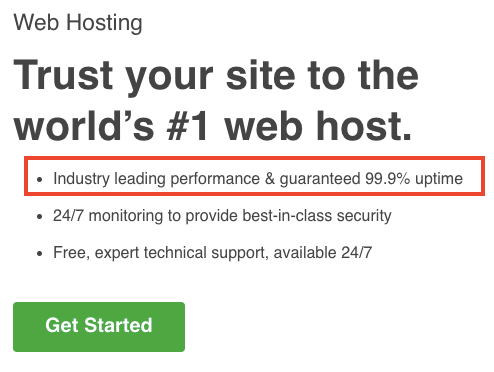 Well, that means your site is going to be live all the time except for their maintenance hours which is around 3-4 hours a year.
If you have stopped believing what companies promise, then you're in the right place.
For Godaddy review, we have monitored and tested more than 30 websites that are hosted on Godaddy's web hosting and here's what we found.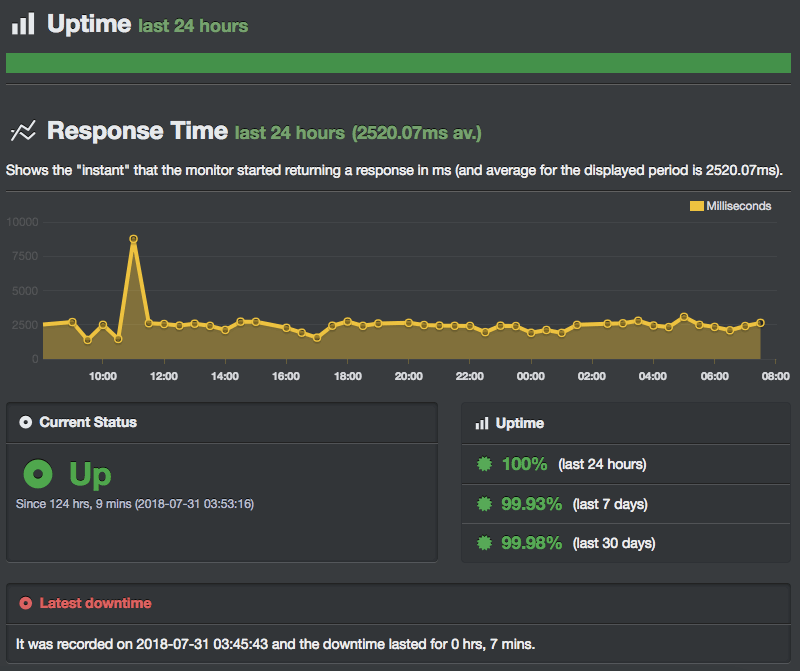 You can see, it has an uptime of 99.98% which means the site was live almost all the time.
This seems less than what they have promised but it is very close either way.
Here's the pattern of downtime that occurred.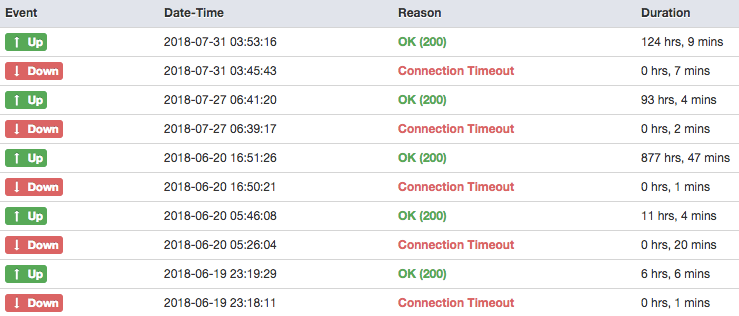 The site went down for 20 minutes on 2018-06-20. That is a huge downtime. It is going to cost a lot if you're running an e-commerce store or selling any services online.
Response Time
Server response time is the amount of time it takes for a web server to respond to a request from a browser. No matter how optimized your web pages are, if your server response time is slow, your pages will display slow.

The server speeds of Godaddy looks great. Bitcatcha has given a rating of A+ for Godaddy servers.
So, response time shouldn't be an issue with Godaddy web hosting.
Godaddy Speed test
You wouldn't want your users to wait for your site to load up, would you?
Well, check out the speed test of Sites hosted on Godaddy. Would it make a difference in your choice?
Let me know in the comment section below.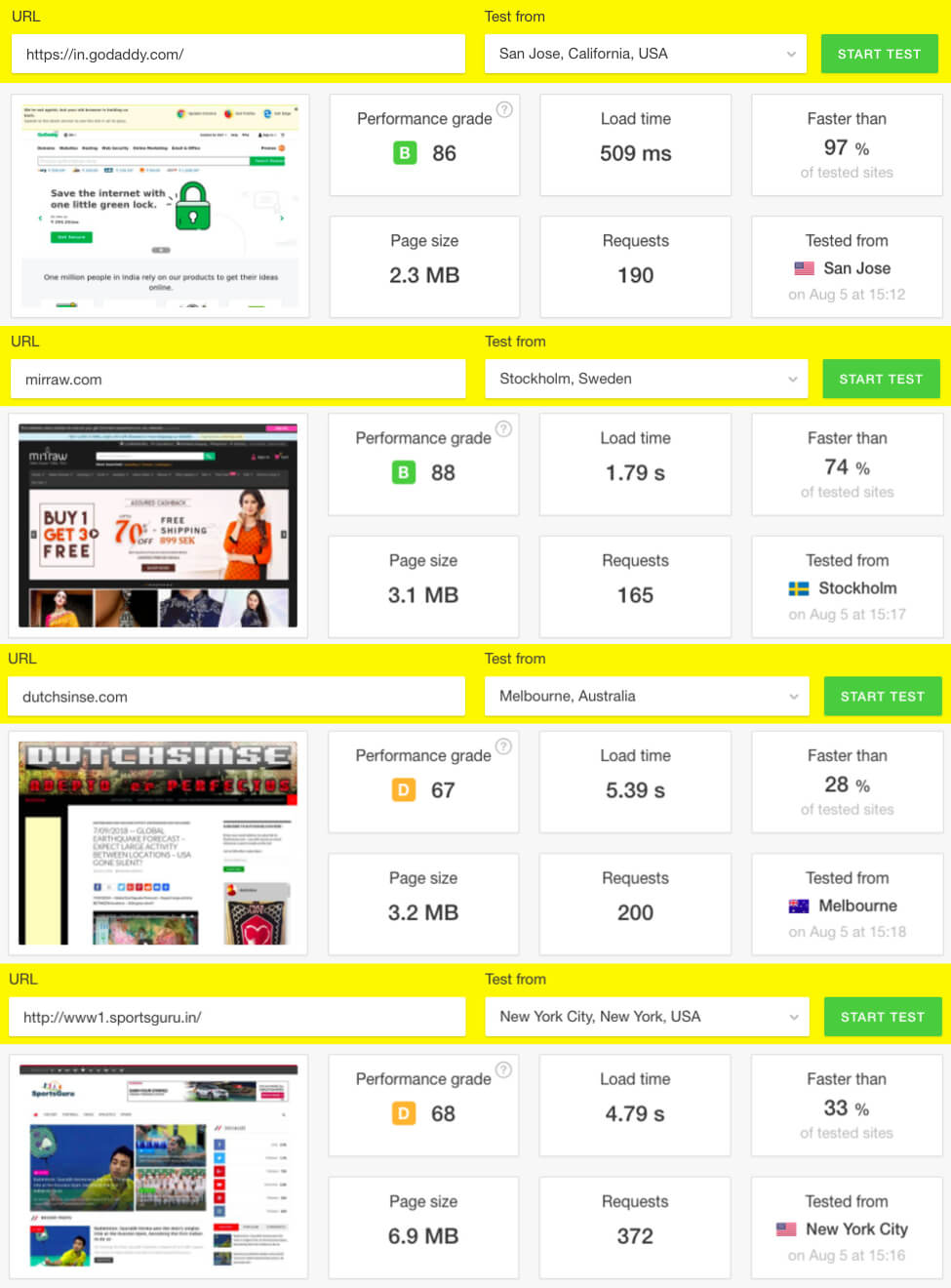 After analyzing the above report, I can say Godaddy web hosting speed is around 2 Mbps which is very quick.
Quicker than most of the hosting companies out there.
Godaddy Customer Support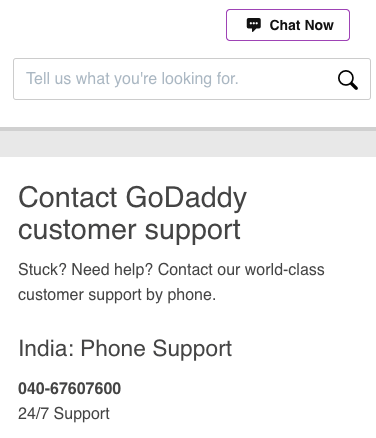 Godaddy has 2 types of Customer support system
Godaddy Chat support
Phone support
They even have a quick FAQ page with some relevant solutions to the most common questions or problems.
Other than that, Godaddy chat support is great except for the wait time.
You'll have to wait for more than an hour sometimes to get the chat connected to their Customer service person.
A phone call would be a better choice as it takes less time for the call to get connected to a real person.
Control Panel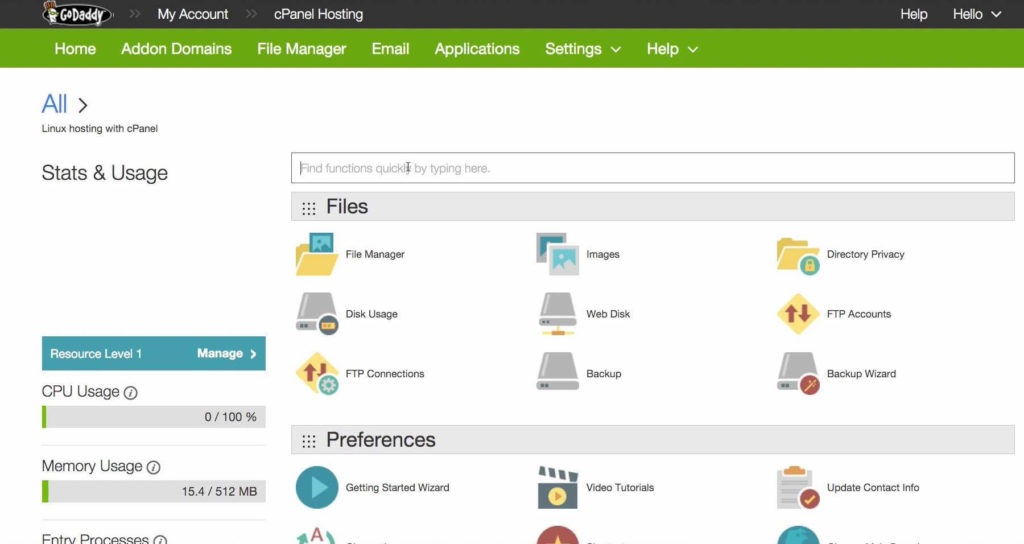 This is the typical control panel which most of the popular web hosting companies use. So it shouldn't be an issue if you're new to this hosting world or if you're moving from any other host to Godaddy since it has a very user-friendly interface.
Features
Pros
Godaddy is comparatively cheap, as its plan starts at $1.46/month.
Godaddy C panel has a very user-friendly interface.
They provide good security towards the issues like spam, hacking etc.
Now a days, they seem to be achieving uptime of 99.99%
Godaddy offers the latest technologies like PHP 7 and more.
They use SSD for their managed WordPress hosting servers.
Multi-site management tool available
Cons
They promise to provide the unlimited bandwidth and that seems to be a big lie.
Basic plans of Godaddy suck as they reach the max limit of CPU usages very soon which literally makes your site not reachable to your users.
Limited disk-space.
It is not a big deal moving from one hosting company to other, but Godaddy wouldn't help you migrate. Sad but true.
Customer support has a long wait time.
Many users have complained that were not able to add some plugins in WordPress on their managed WordPress hosting.
No SSD storage options in Linux and Windows hosting.
Site backup and restore are one of the paid options.
Godaddy User Reviews
Here's what Godaddy users have to tell. I must say I have heard a lot of Godaddy complaints in a while.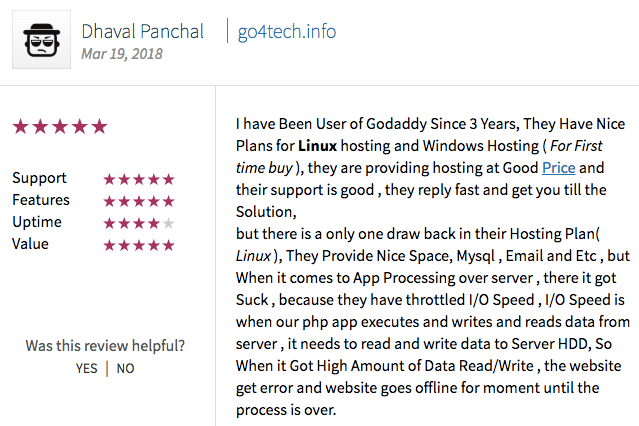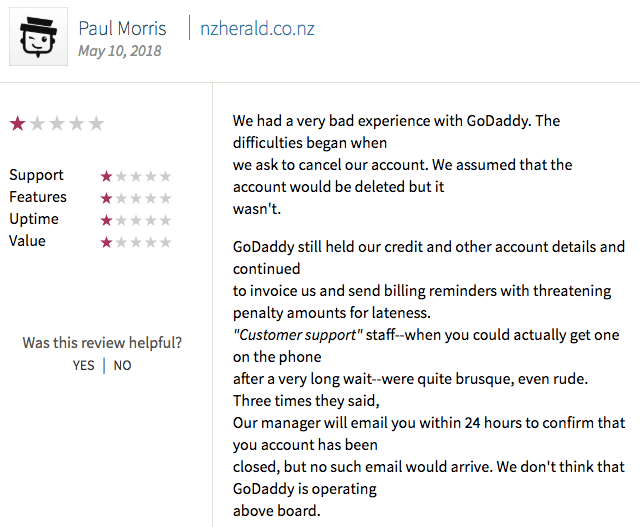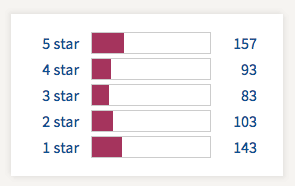 Out of 579 genuine user reviews, these are the star ratings observed.
Credits: Whoishostingthis
I request you to post your opinions about Godaddy and let me know if you were satisfied or not with my Godaddy review 2018 in the comments down below.
I hope this Godaddy review 2018 has made it clear to you on the features and every other aspect of Godaddy.
Start your Godaddy hosting today or come back here tomorrow in case you make your mind of hosting with Godaddy with the cheapest offers available in the market.
Read more Hosting reviews and Hosting comparisons on Whyhostwithme to make the right decision and get the perfect host for your website.
Also, check out our Blog page to learn more about hot topics like WordPress, Webhosting, Domains, SEO, etc.
Thank you, Have a wonderful day. ☺️
Disclosure: The links found in this post are affiliate links which help us earn through sales-based commissions.