Bluehost review is one of the most demanded reviews on our website.
You know why?
Because it is one of the most recommended hosting providers, by famous bloggers out there.
Not only because they give good commissions,
It is also because they provide great service.
I would say, it is one of the hosting companies which is more optimised for sites using WordPress as the CMS.
(Others are WP Engine, Siteground, Hostgator, Inmotion hosting etc;
That is why we have our comparison review. Check out these.
Hostgator vs Bluehost review.)
Not only me, but WordPress themselves also state this and Bluehost is very happy to market it.
Here's a screenshot of the Facebook advertisement I recently came across.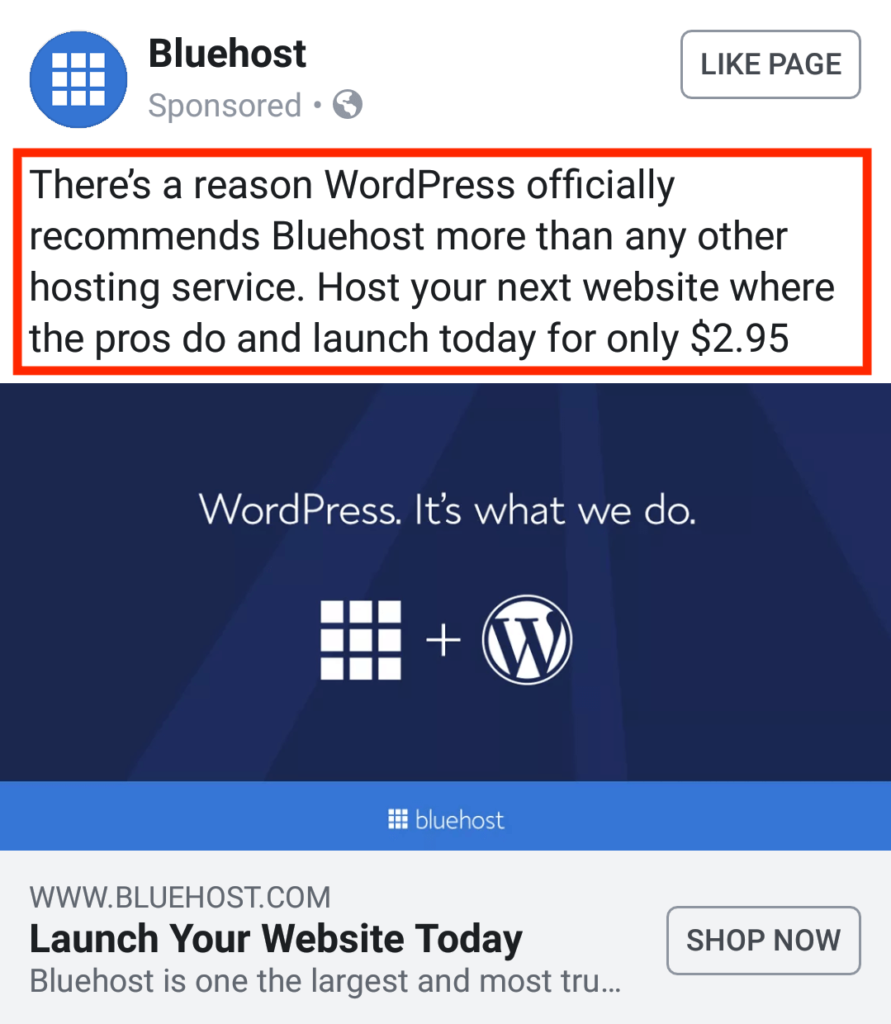 So, let us dive straight into my Bluehost review 2018 and find out if Bluehost is the right web hosting for you.
Bluehost Review 2018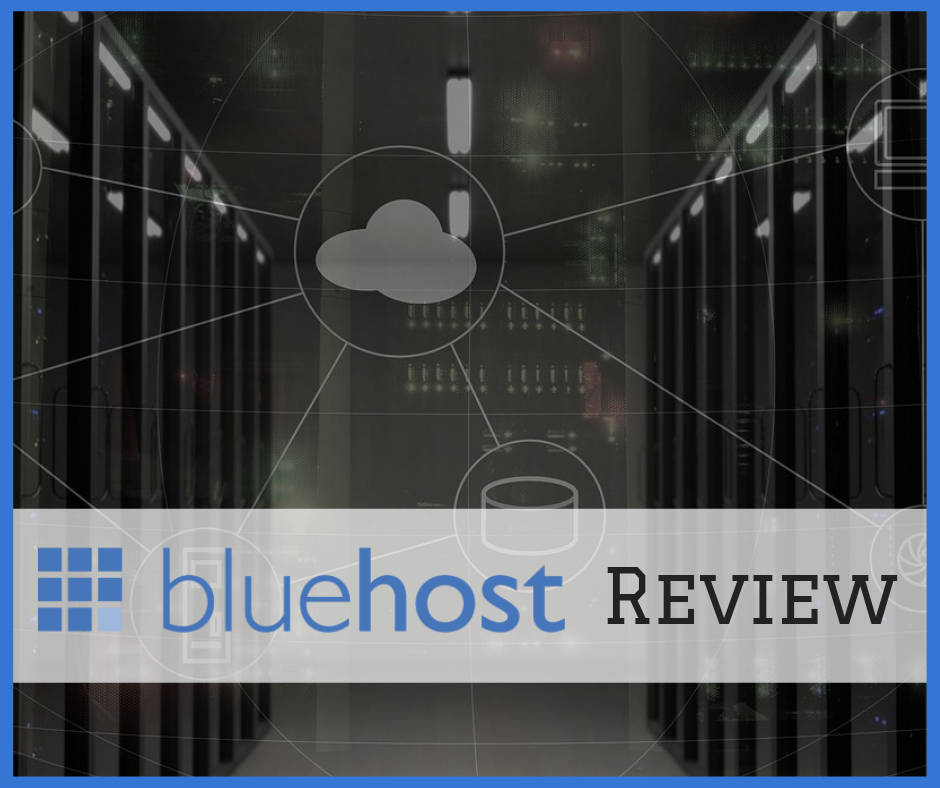 We have split this review into different sectors.
There are price and plans, different test results and also pros and cons at the end of this Bluehost review.
If you have any further queries regarding Bluehost or any other hosting provider for that matter of fact, please do hit us in the comments below and we'll get back to you in a flash.
History of Bluehost hosting
It is a private web hosting company founded in the year 2003 by Matt Heaton. Headquarters is at Provo, Utah, USA. It is owned by the Endurance international company.
It is one of the oldest web hosting provider.
About Bluehost web hosting
It is owned by the same company as that of Hostgator, iPage and Fatcow, which is Endurance International group of companies. It has been quite famous in the field of web hosting for a long time.
It is one of the 20 largest web hosts, collectively hosting well over 2 million domains.
Bluehost offers shared, VPS, dedicated, Cloud, WordPress and also E-commerce hosting as of now.
Price and Plans
Before I talk about pricing, let me talk about the plans which they are providing under shared hosting category.
There are 4 plans.
Typical Shared hosting.
WordPress hosting.
Optimized WordPress hosting.
E-commerce hosting.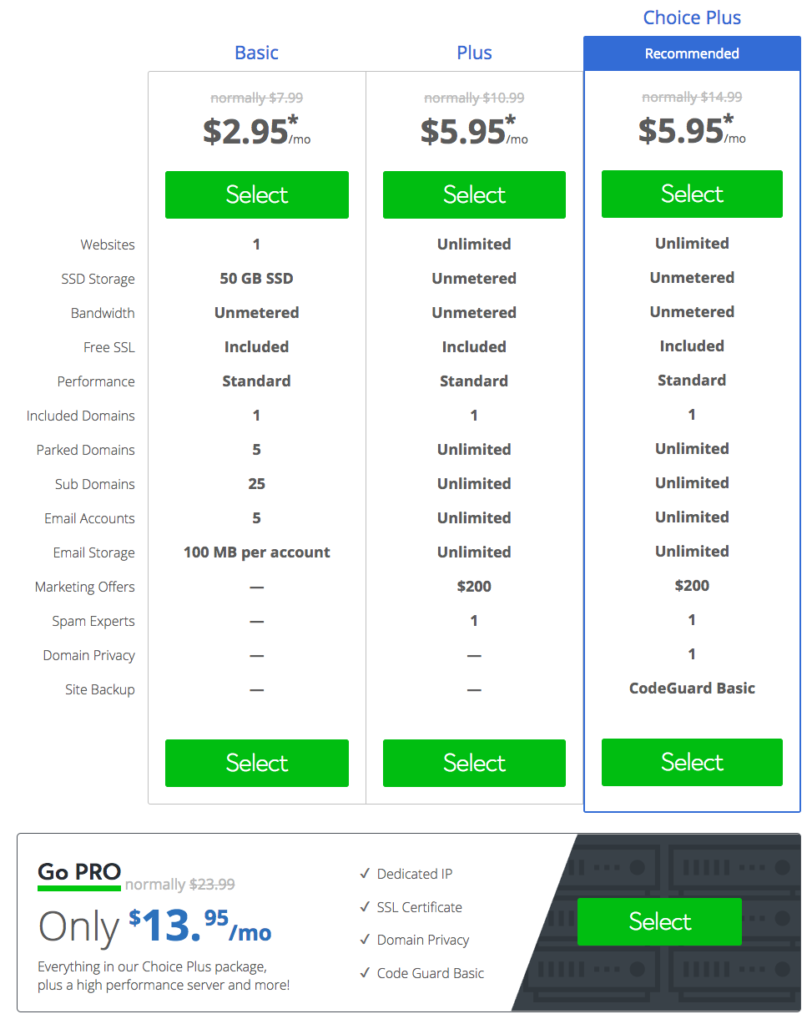 The basic shared hosting plan is quite reasonable. As you can notice its just $2.95 per month.
It is worth every penny when you look at the features you get.
But you might have to also look at the price that has been stricken out because that is the renewal price that you're going to pay.
This is all about the typical shared hosting plan.
Now, let us see the WordPress hosting plans, both the basic as well as the Optimised WordPress hosting plan.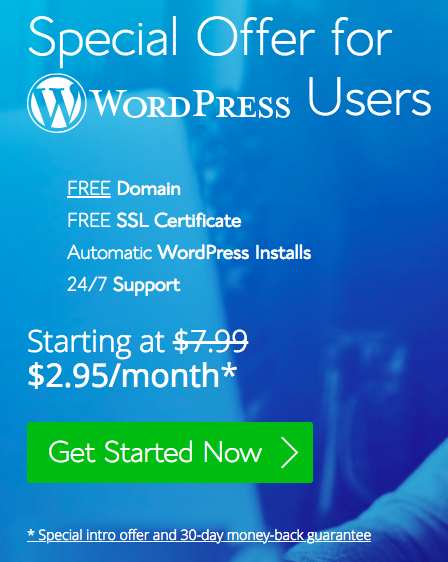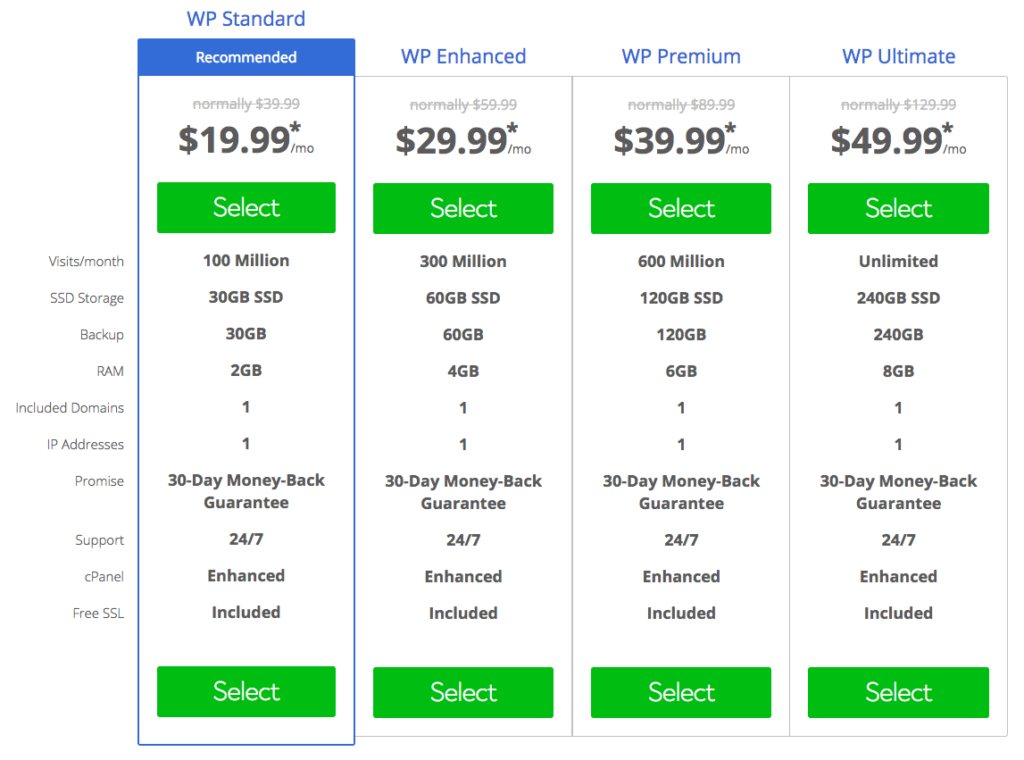 The WordPress hosting is nothing but the replica of the basic shared hosting plan.
It'll have WordPress pre-installed so, you don't have to take the stress of installing it manually.
If you already have a website which is getting a million visitors a month or more, then you can probably check the WordPress Optimized plan.
But mind you, they are very expensive.
The fourth plan that is being provided is the E-commerce hosting plan.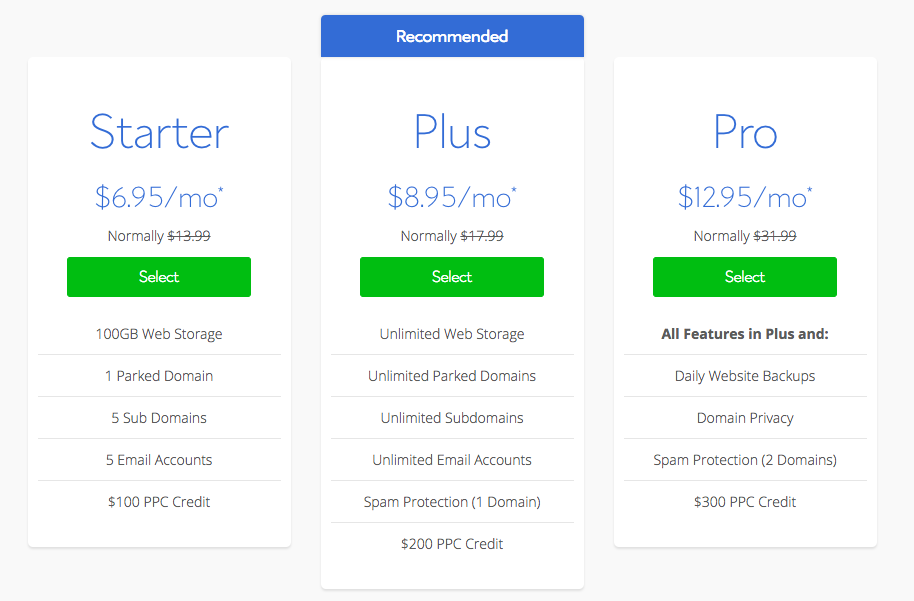 The E-commerce hosting is also a great deal.
A good number of features for the price.
But, the renewal prices are always high.
Note: It's always good to buy hosting for a long-term if you want it for a cheap price.
But if the hosting turns out to be bad, you might lose your money as Bluehost comes only with a 30-day money back guarantee.
I would say for the price they are charging, the quality of the servers and the features they're providing are quite worth it.
So, if you have the budget, Bluehost could be one of your choices and I would definitely recommend it.
Check prices and plans of Bluehost in detail by clicking the button below.
Right after choosing your desired plan, all you need to do is, check its "Performance".
Bluehost Review – Performance Tests
Web hosting performance tests include:
Uptime of the hosting server.
Response time of the server.
Speed test.
Uptime report
Unlike other web hosting providers, Bluehost doesn't market about its uptime anywhere in their website.
But, I was happy seeing the uptime reports.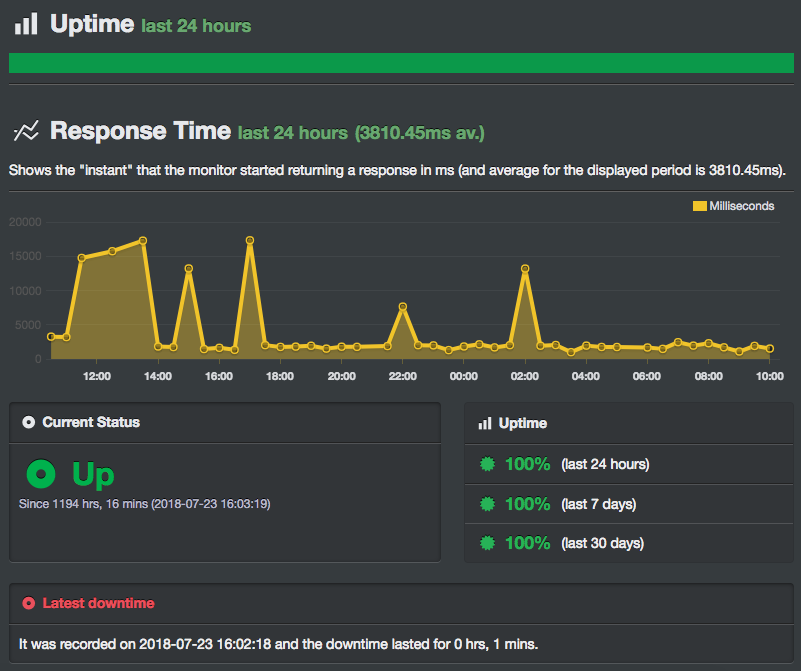 We have monitored more than 30+ websites for this uptime test.
And all the servers have been up all the time except for 1 minute of their maintenance period.
That is 100% uptime.
The above image shows the average of Bluehost server uptime.
You can also check the below image for more details on Bluehost uptime.

So, our Bluehost review shows that Bluehost nails the uptime test.
Response Time
Server response time is the amount of time it takes for a web server to respond to a request from a browser. No matter how optimized your web pages are, if your server response time is slow, your pages will display slow.

From the report, we can see that the response time is great which means the performance of the servers is seamless.
Speed Test
You wouldn't want your users to wait for your site to load up, would you?
Well, check out the speed test of Sites hosted on Bluehost. Would it make a difference in your choice?
Let me know in the comment section below.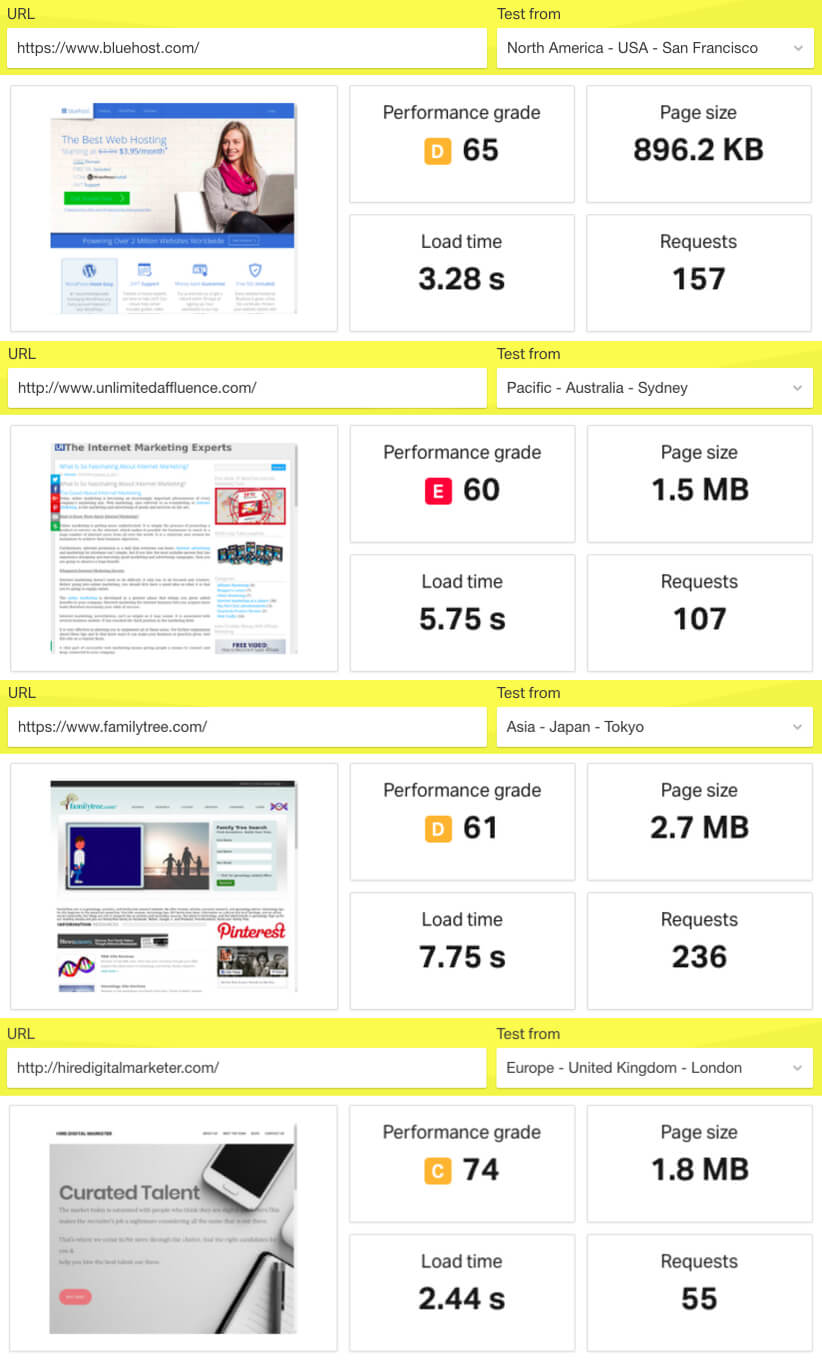 Wait, what?
By analysing the above images from the speed test, I'm shocked by seeing the results.
An average of 0.5 Mbps is the speed of Bluehost servers which seems very low when compared to its competition.
Its all-time rival Hostgator has an average speed of 2.1 Mbps.
Bluehost claims that it is the best WordPress hosting but the results don't say the same.
If website loading speed is your priority then Bluehost is not for you.
Bluehost customer service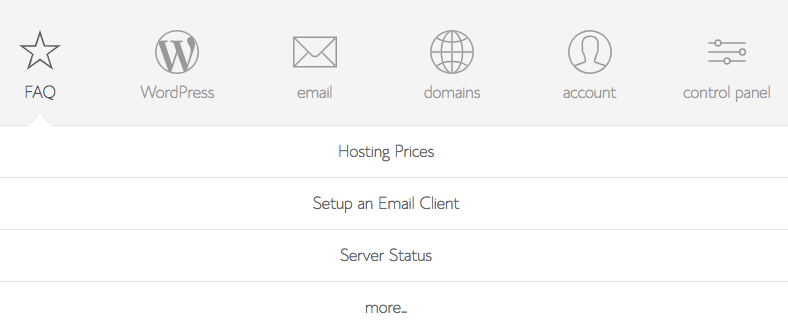 The famous unreliable ticket system has been closed by Bluehost recently.
They claimed that they want to give a quicker solution, that is why they have cancelled the ticket system and are concentrating more on phone support.
I feel it's a good call.
We can expect less wait time both for phone support and online chat support.
So, now we have the faq, Online chat and Phone support which is great according to my experience and other users feedback.
Bluehost Cpanel (Control Panel)
These are the typical Control panels most of the web hosting companies use out there.
So it shouldn't be an issue if you're new to this hosting world or if you're moving from any other host to Bluehost since it has a very user-friendly interface.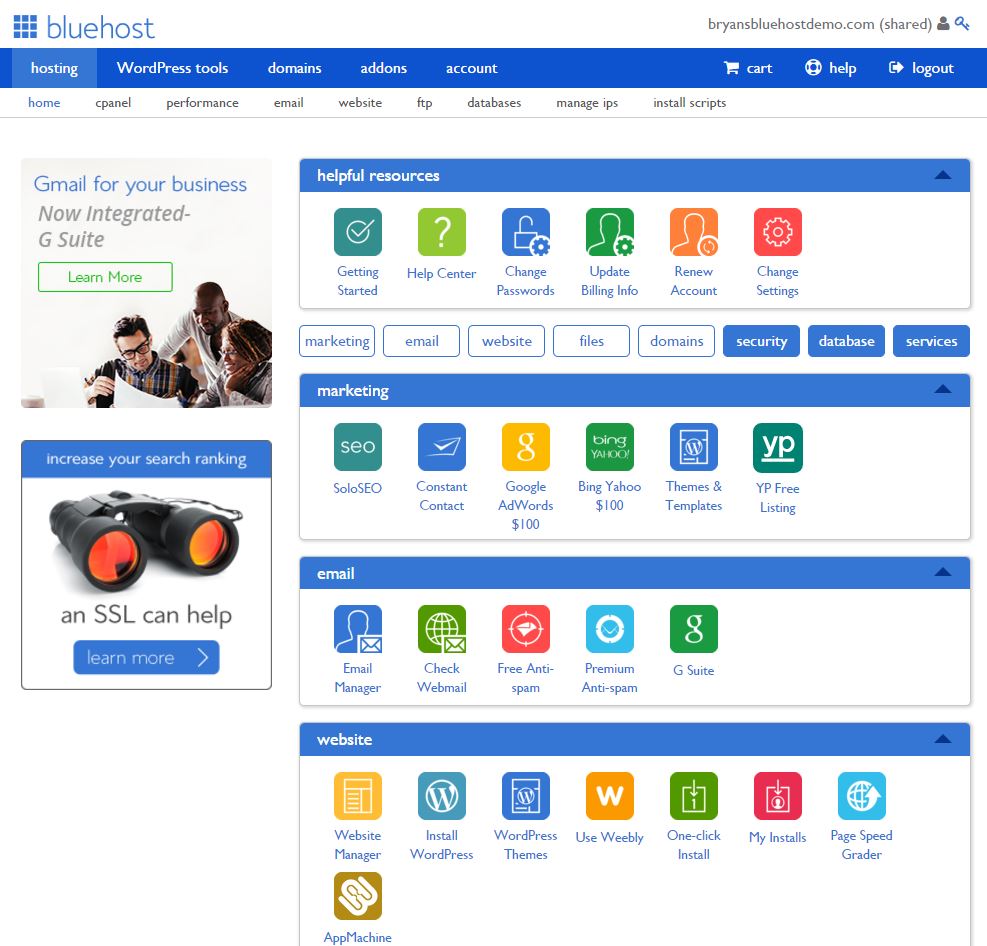 Features
Pros
Provided with free site builder with templates with your hosting plan.
It is well equipped with beautiful features like a secured shell, SSL, FTP, etc.
Here it is unlimited everything such as (like) bandwidth, disk space, unlimited domains, etc.
Free domain (for 12 months).
It includes (GI, Ruby (ROR), MYSQL.
Any time money back guarantee.
It has a very solid server performance, being having an uptime (average) of 99.9%.
They introduced a new feature CPU throttling (simply refers to the process of reducing users CPU usage in whenever the particular uses are pulling "too much" server resources at the time. At this particular time, they will freeze your CPU usage substantially and technically "jail" your websites in a server).
They will provide you with the three different plans for shade hosting (starter, plus, business pro), you can go for anyone which is convenient for you.
A quality customer support powered by the knowledge staffs.
Cons
The website is confusing for new customers and needs a redesign.
It's not clear how often or when your credit card is going to be charged.
Slow and unexplained outages and site response times.
The hosting plans are little expensive, and even the renewal rates are still expensive.
If you want to migrate to other hosting companies, from Bluehost for any inconvenience, you have to pay around $100, but the companies like GoDaddy, iPage, etc costs nothing for this service, but if you are in the other way,I mean from other company to Bluehost then they are doing this service for free (charging nill).
They wouldn't offer windows hosting services, like ASP, NET or any other. If this is the case you have to go to the companies like Godaddy, Hostgator etc. This offers windows/linear hosting.
They don't offer any coupon codes for hosting, but you will be secured with their default coupon "FREE DOMAIN" with each and every plan of them.
Bluehost user reviews
Here's what Bluehost users have to tell.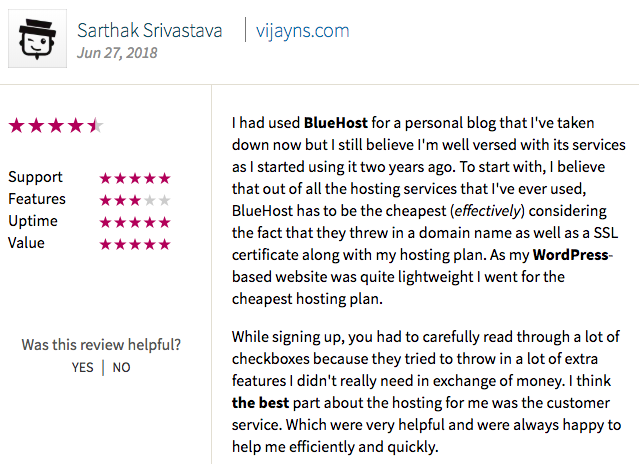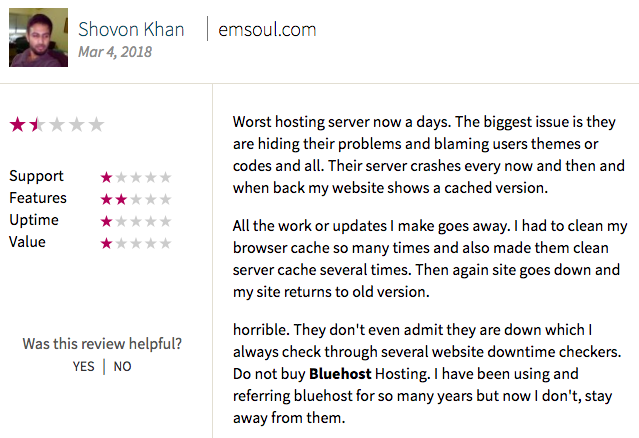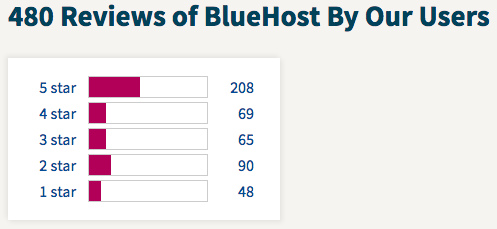 Out of 480 genuine user reviews, these are the star ratings observed.
Image credits: whoishostingthis
I request you to post your opinions about Bluehost and let me know if you were satisfied or not, with my Bluehost review 2018 in the comments down below.
I hope this Bluehost review 2018 has made it clear to you, on all the features and every other aspect of Bluehost.
Read more Hosting reviews and Hosting comparisons on Whyhostwithme to make the right decision and get the perfect host for your website.
Also, check out our Blog page to learn more about hot topics like WordPress, Webhosting, Domains, SEO, etc.
Thank you, Have a wonderful day.
Disclosure: The links found in this post are affiliate links which help us earn through sales-based commissions.